Photo Gallery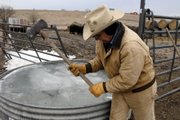 Cold weather
There's bad news and good news.
It's still cold. Temperatures reached only the mid-20s Wednesday as about an inch of snow fell in Lawrence.
Don't look for it to warm up soon, said 6News chief meteorologist Jennifer Schack. Highs are expected to be in the 20s or teens into next week.
But only these temperatures can help provide a new outdoor activity in Lawrence: skating.
The Lawrence Parks and Recreation Department filled the base of Buford M. Watson Jr. Park, near Sixth and Kentucky streets, with water.
Mark Hecker, parks superintendent, said he expected the pond to be frozen solid and open by Friday afternoon.
Until then, the city asks people to stay off.
It has been two years since there was an ice rink in the park because of last year's mild temperatures.
If a soft spot or crack forms, skaters shouldn't fret.
"You'll get your shoes wet," Hecker said. "The deepest water is about one foot."
As the ice rink formed, snowy weather made for dangerous driving conditions. Through 4:30 p.m. Wednesday, Lawrence police officers responded to 26 accidents, said police spokeswoman Kim Murphree. None involved injuries.
Elsewhere, northbound lanes of Interstate 35 were closed for a 12-block stretch in northern Johnson County for nearly three hours after a tractor-trailer reportedly went out of control and caused a pileup that involved about 35 vehicles. No one was killed, but 10 people were taken to area hospitals, authorities said.
According to a Kansas Highway Patrol report, a 32-year-old Guatemala man died Wednesday after a van rolled over on a slippery Interstate 70 in Dickinson County. Nine other people in the vehicle were listed as injured but refused medical treatment.
Schack said Arctic air would continue to sweep down into the area for the next few days as part of a few different systems. Flurries will be possible the next few days, and clouds will be a frequent sight, she said.
"We won't break out in the bright sunshine any day soon," she said.
Amid the colder temperatures and snow, gasoline prices at some Lawrence stations increased Wednesday.
"It's a little bit higher. I was kind of hoping it would stay at about $2," said Samantha Cook, a Kansas University senior studying computer science.
Cook filled up her tank Wednesday afternoon at Kwik Shop, 845 Miss., for $2.15 a gallon, which matched other prices along Ninth Street.
Tom Palance, executive director of the Kansas Petroleum Marketers and Convenience Stores Association, said cold temperatures in Kansas generally don't influence fuel prices.
But, cold temperatures in the northeastern part of the country could increase demand for heating oil and contribute to a price spike along with OPEC production cuts, he said.
- The Associated Press contributed to this report.
Copyright 2018 The Lawrence Journal-World. All rights reserved. This material may not be published, broadcast, rewritten or redistributed. We strive to uphold our values for every story published.