-->
On the street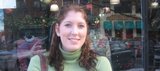 The election. I'm excited to see some change and the direction the country is going in.
How hard could it be? Go into a crowded grocery store and ask four people a simple question: "Do you take your New Year's resolutions seriously?"
Part of my job at the Journal-World is the "On the Street" column that appears daily in the Lawrence and State section.
I was sure this would be an easy question. But 20 questions later, I still didn't have one answer. Well, actually, everyone had given me the same answer: "I don't make them."
Jon Hudson, a doctoral student at Kansas University, was one of many who have given up on New Year's resolutions.
"I kind of see them like diets; they tend to let you down. I like to make smaller, more incremental changes," he said. "I think people try to over-resolve on New Year's. I know I used to."
So had Hudson been passionate about making them in his youth and simply become disillusioned as he grew older?
If so, that didn't seem to be the case with kids at Southwest Junior High School.
Some of the students I asked about New Year's resolutions weren't even familiar with the concept - and plenty of those who were already had given up on making them.
Had these young whippersnappers become too tied up in text messaging and MySpace blogs to carry on a time-honored tradition, or has a society of convenience and instant gratification diluted our collective willpower?
It is my hope that the answer lies in realizing - as maybe Hudson has - that change isn't something that happens overnight. It's hard work and self-discipline that makes you a better person in the long run.
All the same, I still plan on making a New Year's resolution; just don't hold me to it.
Copyright 2018 The Lawrence Journal-World. All rights reserved. This material may not be published, broadcast, rewritten or redistributed. We strive to uphold our values for every story published.