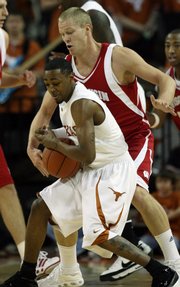 Austin, Texas — Wisconsin's Michael Flowers had two options with time running out: pass to tie, shoot to win.
Easy choice, really.
With a Texas defender leaving him room to shoot, Flowers swished a long three-pointer with two seconds left to give the Badgers a one-point lead.
As if that weren't enough, he followed it with the defensive play of the game.
Flowers stole Texas' inbounds pass and tossed the ball high in the air as he tumbled toward the stands. Texas players, already stunned by the three-pointer, could only watch as the last second ticked off the clock before the ball came down and Flowers was mobbed by his teammates.
Game over. Wisconsin 67, No. 9 Texas 66.
"I was laying for that steal all game, and I finally got one on that inbounds pass," said Flowers, who had two steals and seven points. "I jumped and left my feet, so I couldn't come down and call timeout. I just threw it straight up in the air and hoped time ran out."
The Badgers' final play was supposed to be set up for Brian Butch, the 6-foot-11 center who dominated Texas' interior with 21 points and 11 rebounds. Texas knew it was coming and smothered Butch, leaving Flowers open for the shot from about 22 feet.
"I don't think they were coming down looking for a three-point shot," said Texas guard A.J. Abrams, who was defending Flowers. "He's a threat, but we were playing for the drive. He just let it go, and you've got live with it."
Abrams could have given Texas a three-point lead moments earlier, but the 93 percent free-throw shooter missed the first of two with 11 seconds left.
"I don't miss too much from the line. When it didn't go in, it kind of shocked me," Abrams said.
Wisconsin got the victory despite playing without leading scorer Trevon Hughes, who spent the game on the bench with crutches and a boot on his right ankle.
Damion James scored 21 and grabbed 15 rebounds for the Longhorns, who have lost two in a row after their best start since the 1981-82 season.
No. 14 Texas A&M; 83, Florida A&M; 54
College Station, Texas - Josh Carter scored 18 of his 20 points in the first half, and Texas A&M; extended its winning streak to five.
Aggies coach Mark Turgeon moved into a tie with Billy Gillispie for the best start by a first-year coach in school history at 12-1.
Oklahoma 88, No. 23 West Virginia 82, 2OT
Charleston, W.Va. - Blake Griffin had 18 points and 16 rebounds to lead Oklahoma.
Longar Longar led the Sooners with 22 points.
Oklahoma was 20-of-32 from the field in the final 30 minutes, and the Sooners shot 53.7 percent overall.
Kansas State 101, Wagner 59
Manhattan - Bill Walker had 27 points and 10 rebounds, Michael Beasley added 21 points and 10 boards, and Kansas State erupted for 101 points.
Freshman Dominique Sutton - who joined the team Wednesday - chipped in with 10 points and four rebounds in limited action.
Colorado 93, Grambling St. 47
Boulder, Colo. - Richard Roby scored 18 of his 25 points in the second half, and Colorado's defense forced 25 turnovers in routing winless Grambling State.
Texas Tech 95, Northwestern St. 71
Lubbock, Texas - John Roberson scored a career-high 28 points to help Texas Tech.
Tech snapped a two-game skid thanks in part to precise shooting by the Red Raiders and constant turnovers by the Demons.
Baylor 108, Prairie View A&M; 71
Waco, Texas - Tweety Carter scored 22 points, and Henry Dugat had 20 to lead six Baylor players in double figures.
Nebraska 77, Alcorn State 53
Lincoln, Neb. - Ade Dagunduro scored 14 points, and Nebraska used a smothering defense to prevail.
Aleks Maric had 13 points for Nebraska, and Jay-R Strowbridge added 10.
Copyright 2018 The Lawrence Journal-World. All rights reserved. This material may not be published, broadcast, rewritten or redistributed. We strive to uphold our values for every story published.