Photo Gallery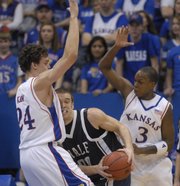 KU vs. Yale
The cheer received by Nick and Caleb Holmes during the introduction of the starting lineup was the only real bright spot for the twins from Olathe, when their Yale basketball team faced Kansas University on Saturday.
Getting one last opportunity to play in Allen Fieldhouse with more than 50 friends and family members watching, the brothers came out on the losing end of an 86-53 decision.
"It's very difficult for them to come and play here," Yale coach James Jones said. "They both have obviously played better through the course of the year - especially Caleb - but it's just a difficult place to play for them. With all the emotions going on and the article in the paper about them not wanting a blowout like last time, it's just a very difficult environment for them."
Jones added: "It's nothing that you notice by looking at them. You notice by the way that they play. You could tell by the way they played they were a little bit nervous, as were a bunch of guys on the team, and that's something that I didn't expect. Playing in the gyms and environments that we've played in, I would suspect it would be easier to play here - but obviously it wasn't."
The Holmes brothers were a combined 2-of-10 from the field, with five points collectively. Caleb, who is the team's second-leading scorer at 11.8 points per game, had his first shot blocked by KU's Darrell Arthur, while Nick's first attempt from the field hit off the side of the backboard.
"I've been to games here before, so I know the atmosphere. Nothing really puts us in awe anymore," Nick said. "It's more of us just going out and competing. The speed was a lot faster than what we'll see in the Ivy League, so we were all rushing our shots a little bit. That probably had more to do with it than the atmosphere."
The shooting woes weren't limited to the Olathe South duo. Yale was well under its season field-goal shooting percentage of 44.1, with a 20-of-54 (37 percent) shooting night against Kansas.
"We took some shots that were the worst I've ever seen," Jones said. "If we would have been able to have a little more confidence and relax a little bit more offensively, we could have done better scoring the ball."
Yale had just as much trouble holding onto the ball as shooting it. The Jayhawks scored 38 points off 27 Bulldogs' turnovers.
"We knew they have a good defensive team, and we had to take care of the ball, and we didn't so they got a lot of points off of turnovers," Caleb said. "That's what really killed us. We just didn't execute offensively."
Yale did have a slight advantage in the rebounding department. The Bulldogs grabbed 36 boards to the Jayhawks' 35.
"It's our first game in 18 days, and there are some things that we look at that we're certain we're going to be better at later on down the road," Jones said. "This is the first game we've outrebounded our opponent, so there were positives that we can take out of this game."
Copyright 2018 The Lawrence Journal-World. All rights reserved. This material may not be published, broadcast, rewritten or redistributed. We strive to uphold our values for every story published.