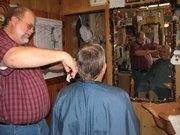 Basehor — "I made some changes over the years, but it's stayed pretty much the same," Paul Runnels said, looking around his quaint 320-square-foot barber shop that has been a staple in Basehor for more than 40 years.
It's two days before Christmas and he's all booked up with loyal clients trying to squeeze in that last-minute haircut before all the relatives arrive.
The jingle bells on the door indicate that his 4:30 p.m. appointment has arrived, and Piper resident Vearl Jones takes a seat in one of two chairs in the whimsically decorated shop. While Jones has been coming to Paul Runnels for his trims for more than 30 years, perhaps an even more well-known local barber was Paul's father, Dwight.
Paul begins his routine and breaks the news to Jones that his father died a few weeks ago.
"He was a legend among us anyway," Paul said.
Dwight K. Runnels, the shop's original owner, retired from the business just shy of his 80th birthday after 60 years of haircuts. He died Dec. 10 at the age of 85. And, while he loved the art of cutting hair, Paul said, his father was ready to join his beloved wife, Ruth, who died two years ago almost to the day.
Born June 17, 1922, in Archer, Neb., Dwight finished barber school immediately after high school, moved to Kansas in 1940 and served in the Army during World War II, cutting hair throughout his short stint and falling right back into the barber business when he got out. He worked for many years at a barber shop on Minnesota Avenue in Kansas City, Kan. The owner, wishing to retire, offered up the shop to Dwight in the 1950s, and he owned and ran it until 1961. Paul said his father lived in Basehor at the time and grew tired of the commute. One day, Dwight was talking to his father-in-law, who owned the house next to a vacant lot in Basehor.
"He said, 'I would really like to build a shop out here, but I don't know where to build it,'" Paul said. "My grandfather looked out the window and said, 'right there.'"
And, in 1961 Dwight opened Runnels Barber Shop in Basehor. The original neon sign that Paul estimates was made in the 1920s or '30s that used to be displayed in the window still hangs above the mirrors between the two barber chairs. While it needs a little repair to allow it to glow again, it's an important piece of the shop's history, as Paul has since renamed the shop Hair Mechanix.
Easy-going Christian
Paul considers himself lucky to have worked beside his father in the shop for about 15 years when Paul bought the shop from him in 1987. Dwight was described as a pleasant, easy-going Christian man who was good at what he did and he had generations of customers to prove it.
"I stood here many times and watched him swivel them (customers) around and study that," Paul said about watching his father work. "He could sit in church and look at the back of people's heads and say, 'that's mine, that's mine' because he knew his craft. He knew how he did things."
Cutting hair was relaxation to Dwight, Paul said. As Dwight grew older, customers would tell him that he should retire, relax and do something he loved. Dwight would tell them that he was already doing something he loved, Paul said.
Of course, Dwight did have at least one other main interest.
"The only other thing dad liked better than cutting hair was fishing," Paul said, gesturing up at a black bass his father caught in 1968 that is still mounted on the wall in the shop. "He loved catching them bass. He had fishing holes all over the place."
Cuts and conversation
Paul continued to chat about daily life with Jones. He said talking and conversation went along with the career.
"Up until two or three days before he died, he was still talking," Paul said about his father. "Barbers have to do that. If I ever lost my voice, I would have to change jobs."
The men laughed as Jones joked that his hair was a different color when Paul first started cutting it.
"I bet you had a big crowd at that funeral," Jones said to Paul.
"At both the wake and the funeral there were a lot of people," Paul said. "There were people that came back that I hadn't seen in years. It really touched me."
The bells on the door rattled again as Paul's wife, Robin, walked in with the day's mail in hand. The trio chatted for a little while as Paul finished up the haircut. When they said their goodbyes and Jones walked out the door, Paul began to read the sympathy cards from the stack of mail, chuckling at the memories people had of his father.
"That's one of the nice things about haircutting," he said. "In this type of business, your customers are your friends and after enough years they become like your family. Dad had a lot of them. That's why there were so many people at the funeral."
While becoming a barber was not Paul's original plan in life, he said, he enjoys coming to work every day and credits much of his success in the business to his father.
"I learned a lot from him," he said. "Of all the haircutters I've ever worked with, he's the best I ever saw. I didn't ever really plan to be a haircutter, but after this many years, I realize what dad saw in it. It's not a lot of money, but it feeds you psychologically."
Paul said he has heard it many times before - "your dad gave me my first haircut." And, Paul's nephew was recently added to the first haircut bunch when the family brought both him and Dwight to the shop last August so Dwight could give the fourth generation a haircut. While there were many first haircuts in his father's life, Paul will always remember his father's last.
"He cut a good head of hair until the last one he did, which was mine," Paul said. "We're going to miss the ol' guy."
Copyright 2018 The Lawrence Journal-World. All rights reserved. This material may not be published, broadcast, rewritten or redistributed. We strive to uphold our values for every story published.