Photo Gallery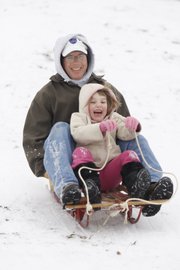 Photos- First days of winter
Snow is a beautiful but treacherous part of about every winter in Lawrence. The city has been blanketed a couple of times already, and, if forecasters were correct, a fresh coating may be on the ground this morning.
With the snow comes a responsibility for local property owners: clearing the sidewalks. City ordinance requires sidewalks to be cleared within 24 hours of the end of a snowfall or ice accumulation. Those who fail to clear the sidewalks can be cited and are subject to a fine of $20 per day.
Although fines can be levied, this ordinance seems difficult to enforce. By the time the process plays out, changeable Kansas weather may already have taken care of the problem. Fines may discourage habitual offenders, but in many cases, a simple show of neighborly concern may be more to the point.
In residential neighborhoods, people know - or can find out - who might not be physically able to handle snow removal. In many cases, those people would be happy to pay someone to clear the walks. Or if you're feeling particularly magnanimous and can use the exercise, just keep shoveling beyond your property line. The neighbor might even invite you in for hot chocolate.
The city also has a program that formally matches volunteers with people who can't shovel for themselves. Both volunteers and those who need help can sign up for Safe Winter Walkways by calling 832-3338.
Businesses and public property, such as schools, also have a responsibility to keep their sidewalks clear. It's important to remember that even on the weekends or holidays when schools or businesses are closed, sidewalks need to be cleared.
Shoveling sidewalks is an important safety issue. Even when the weather is bad, some people need to walk to certain destinations. They should be able to do that without undue danger of falling on ice and snow. When sidewalks aren't cleared, walkers and joggers sometimes move into the street to find firmer footing, creating a safety hazard for both pedestrians and drivers.
If December is any indication, we may have more than the usual amount of snow to deal with this winter. Let's all work together to keep the sidewalks safe and clear for local pedestrians.
Copyright 2017 The Lawrence Journal-World. All rights reserved. This material may not be published, broadcast, rewritten or redistributed. We strive to uphold our values for every story published.