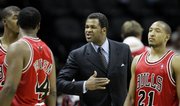 Spurs 94, Bulls 79
San Antonio - Tony Parker scored 28 points, and the San Antonio Spurs easily beat Chicago, 94-79, Wednesday night in the Bulls' first game since firing coach Scott Skiles.
Michael Finley added 15 points for San Antonio, and Tim Duncan had 11 rebounds.
Joe Smith had 19 points and 11 rebounds, and Ben Gordon added 18 points for the Bulls, who have dropped four of their last five. Assistant coach Pete Myers, who played in the league for eight years, served as interim coach for Chicago.
Skiles was let go on Christmas Eve. The Bulls lost 10 of their first 12 games and have a 9-17 mark, one of the worst in the East.
The Spurs were up by double digits for almost the entire second half and led by as many as 25 points.
Hornets 116, Grizzlies 98
Memphis, Tenn. - Chris Paul had 40 points and nine assists, and New Orleans used a third-quarter spurt to beat Memphis.
Paul shot 17-of-25 from the field, including 5-of-8 from three-point range, as the Hornets won their third straight. It marked the second-highest point total in Paul's career.
Pistons 101, Nets 83
East Rutherford, N.J. - Richard Hamilton scored 22 points, and Detroit shot 78 percent in the third quarter in beating New Jersey Nets for its sixth straight victory. Hamilton hit all five of his shots, and the Pistons connected on 14 of 18 from the field in turning a one-point halftime lead into a 14-point margin entering the final quarter.
Hawks 107, Pacers 95
Atlanta - Joe Johnson scored the first two baskets in a 12-0 run, and Atlanta beat Indiana for its first five-game winning streak in eight years.
Magic 110, Knicks 96
Orlando, Fla. - Hedo Turkoglu scored 26 points, Rashard Lewis added 25, and Orlando broke a four-game home losing streak. Orlando outscored the Knicks 60-45 in the second half to win at home for the first time in more than a month.
Wizards 108, Bobcats 104
Charlotte, N.C. - Caron Butler returned from two sore ankles to score 25 points, and Washington rode big games from four players to beat Charlotte and snap a three-game losing streak. The Wizards gave coach Eddie Jordan his 200th career win.
76ers 96, Heat 85
Philadelphia - Andre Iguodala scored a season-high 28 points, Kyle Korver and Lou Williams added 13 apiece, and Philadelphia held off Miami. Andre Miller had 12 points, 12 assists and eight rebounds.
Nuggets 125, Bucks 105
Denver - Marcus Camby had a triple-double, and Carmelo Anthony posted his fourth straight double-double as Denver beat Milwaukee.
Anthony, who had four double-doubles last season and six so far this year, finished with 29 points and 10 rebounds in three quarters of work.
Jazz 99, Mavericks 90
Salt Lake City - Carlos Boozer scored 21 points, including six of Utah's last seven, and the Jazz held off Dallas.
Celtics 89, Kings 69
Sacramento, Calif. - Paul Pierce scored 14 of his 16 points during a dominating second-quarter run that carried Boston to its first victory in Sacramento in more than 11 years.
Ray Allen led the way with 17 points, and Kevin Garnett added 14 points and 10 rebounds for the Celtics, who had lost 11 straight at Arco Arena since Feb. 16, 1996.
Warriors 105, T'wolves 101.
Oakland, Calif. - Monta Ellis scored a career-high 35 points to go with six rebounds and four assists, and Golden State held on to beat Minnesota for its fifth straight home victory.
Baron Davis added 27 points, seven assists and six rebounds, and Stephen Jackson had 19 points, six assists and six boards in the fourth victory in five games for Golden State. The Warriors led by as many as 22 before Minnesota nearly rallied from a 12-point deficit heading into the final period.
Copyright 2018 The Associated Press. All rights reserved. This material may not be published, broadcast, rewritten or redistributed. We strive to uphold our values for every story published.