Photo Gallery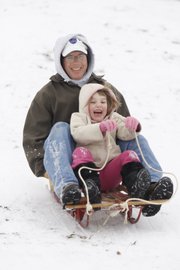 Photos- First days of winter
Another winter storm is developing in central Kansas and will move into northeast Kansas tonight, according to Jennifer Schack, 6news meteorologist.
There is a chance for light freezing rain and drizzle to begin about midnight, Schack said. She said there is a better chance for snow accumulation to begin after 2 a.m. She said to expect between two and four inches to accumulate Friday.
The National Weather Service issued a snow advisory for Douglas County that extends from 9 p.m. today until noon Friday. The advisory is a precaution for inconveniences such as travel delays.
Schack said temperatures will stay in the 20s today, with wind chills in the teens.
Copyright 2018 The Lawrence Journal-World. All rights reserved. This material may not be published, broadcast, rewritten or redistributed. We strive to uphold our values for every story published.