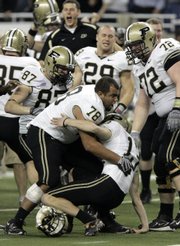 Detroit — Chris Summers kicked a 40-yard field goal as time expired in the Motor City Bowl, lifting Purdue to a 51-48 victory over Central Michigan on Wednesday night.
Curtis Painter threw for a school-record 546 yards and three touchdowns, helping the Boilermakers build three 21-point leads and set up the winning kick.
The 99 points tied the second-highest total in a bowl game that ended in regulation, trailing only the 2003 Insight Bowl, where California beat Virginia Tech, 52-49.
"It reminded me of some of our early games at Purdue and also of the wacky WAC," Boilermakers coach Joe Tiller said. "It wasn't my favorite game, but it was a heck of a game for the spectators."
Central Michigan's Dan LeFevour threw for 293 yards and four scores and ran for 114 yards and two TDs.
Purdue (9-5) didn't seem inspired to play early in the game, perhaps because playing in Detroit isn't exactly what a Big Ten team has in mind when it dreams of playing in the postseason.
The Mid-American Conference champion Chippewas (8-6) got the Boilermakers' attention early, though, with an interception on the third play of the game and by taking a 3-0 lead.
Purdue then seemed to get fired up and appeared to be rolling toward a rout, leading 27-6 midway through the second quarter, 34-13 at halftime and 41-20 early in the third.
The Chippewas proved they belonged on the same field.
Their comeback started with LeFevour's scoring pass to Bryan Anderson at 10:19 of the third and the quarterback tied the game with two runs late in the quarter.
Purdue answered with Jaycen Taylor's TD run midway through the fourth quarter and seemed to seal the win with a sack when Central Michigan had the ball with 2:15 and no timeouts.
LeFevour wasn't done.
He escaped a sack on the next play and got out of bounds. Then, he connected on some passes for first downs before lobbing a pass to Anderson from 20 yards to make it 48-all with 1:09 left to play.
Painter, who broke the Purdue record shared by Drew Brees and Kyle Orton, was 4-of-5 for 42 yards on the winning drive.
"It was a heck of college football game and it might go down as one of the best bowls," Central Michigan coach Butch Jones said. "I can't say enough about our kids. These kids are special."
Copyright 2018 The Associated Press. All rights reserved. This material may not be published, broadcast, rewritten or redistributed. We strive to uphold our values for every story published.