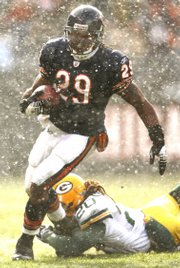 Green Bay, Wis. — Brett Favre said he and his teammates can't brush off the Green Bay Packers' 35-7 loss to the Chicago Bears at Soldier Field on Sunday simply because it was played in extreme conditions.
Asked on Wednesday if he sensed that some of his teammates lost concentration because of the weather, Favre said yes - a surprise, given the team's success all season and the potential playoff ramifications of Sunday's game.
"I don't know if anyone was really into it," Favre said.
The Packers still had a shot at earning home-field advantage throughout the playoffs going into the game, but Favre said the weather might have thrown off the NFL's youngest team.
"I'm sure there were some guys on our team who thought, 'What did I get myself into?,"' Favre said. "I don't think anyone knew what we were up against from a weather standpoint. And I think being a real young team, it probably was a little bit of a shock to them."
That's a bit unsettling for a team that has at least two more games left at similarly frigid Lambeau Field. Dallas clinched home-field advantage with Green Bay's loss. But the Packers, who finish the regular season against Detroit at Lambeau on Sunday, are assured of a first-round bye and one home playoff game.
As cold as it gets in Green Bay, chances are the Packers won't face such an extreme combination of wind and cold again. After the game, Favre said it was the worst conditions he'd played in during his 17-year NFL career.
But they still might have to prove they can win in bad weather - a nagging concern all season, as the Packers evolved into a pass-first offense that relies on Favre's precisely timed and accurate passes to spring wide receivers free to run for yards after the catch.
"We did not handle the weather very well at all, and that's something we talked about as a team today," Packers coach Mike McCarthy said. "We talked about the focus, we talked about the preparation leading up to that - what could we learn from that particular game, the wind and so forth. And we have moved on from that.
"But it's an experience that we definitely need to learn from, because our performance was unacceptable. We will not play like that again. I won't tolerate that."
Copyright 2018 The Associated Press. All rights reserved. This material may not be published, broadcast, rewritten or redistributed. We strive to uphold our values for every story published.