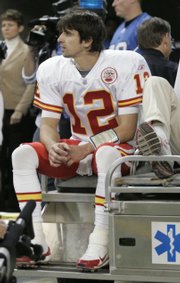 Kansas City, Mo. — A bruised right hand may stop Brodie Croyle from playing against the New York Jets on Sunday, and concern is growing that Kansas City's strong-armed young quarterback may be too frail for the NFL.
Croyle was listed as questionable after taking limited snaps in practice Wednesday. Veteran Damon Huard could start as the Chiefs (4-11) try to halt an eight-game losing streak in their season finale at Giants Stadium.
"(Croyle) is a lot better than he was," coach Herm Edwards said. "He threw the ball a little bit. But he was limited. We'll see where he's at tomorrow."
Finding out if Croyle was the quarterback the team could start building around was one of Kansas City's goals this season. But he didn't play well enough in the preseason to beat out Damon Huard. When he did become the starter after Huard was knocked woozy, he missed time with a deep bruise in his back.
It was a reputation for being injury-prone that caused Croyle to drop to the third round of the 2006 draft. Now, although he has a strong arm and a quick release, his tendency to get hurt is causing the Chiefs to have second thoughts.
Will Kansas City use its first-round pick next April on a quarterback?
"That's something that's going to be decided in the offseason, when the draft's coming up," Edwards said. "... His whole thing will be: Is he available? Your quarterback has to be available."
Copyright 2018 The Associated Press. All rights reserved. This material may not be published, broadcast, rewritten or redistributed. We strive to uphold our values for every story published.