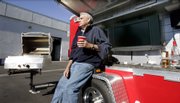 Tailgating isn't just for tailgates anymore.
What used to be a simple pregame picnic lunch served out of the back of a pickup truck or station wagon has become a multibillion-dollar business that, to some fans, is more important than the game itself.
Few people know that better than Jeff Campbell, owner of Gameday Customs of Long Beach, Calif. Campbell outfits trailers designed specifically for the care and feeding of game-day tailgaters.
Small enough to fit in a garage or a recreational vehicle spot in a stadium parking lot, Campbell's trailers cost from $13,900 to $18,500 and can be equipped with a wet bar, flat screen TV and satellite dish, a "kegerator" for keeping beer cool and a 1,000-watt generator.
There is even a toilet to accommodate frequent visitors to the kegerator.
Launched on a shoestring in December 2005, Gameday hit the market amid a boom in tailgating.
Claiming 50 million practitioners, the tailgating industry has its own trade association, a magazine and a convention that drew 25,000 people to Las Vegas in 2006. Membership in the American Tailgater Association, founded just three years ago, already has reached 150,000, said Kevin Miller, publisher of Tailgater magazine.
"Tailgating is so huge that some people go to the stadium just to tailgate and not even to go to the game," said Darryl Dunn, general manager of the Rose Bowl in Pasadena, Calif.
He estimates that 10,000 people who "attended" last year's USC-University of California, Los Angeles game never made it inside the stadium. It's gotten to the point that the Rose Bowl might try to limit tailgating by nongamegoers to lessen traffic problems and ensure enough parking for ticket holders, Dunn said.
Tailgating is most popular at college and pro football games and NASCAR races, although Jimmy Buffett concerts - which attract legions of dedicated "parrotheads" - also draw tailgating crowds, Miller said.
The reasons for the explosive growth are hard to pin down. Miller and others speak of the shared passion for a sports team or stock-car driver and the camaraderie of sharing a beer and smoked brisket with friends and fellow fans before an event.
Whatever the reason, the advent of advanced tailgating equipment like Campbell's trailers has definitely amped up the experience.
The idea for Gameday Customs came while he and a friend were tailgating before the USC-California game four years ago. A guy with a beat-up old trailer outfitted with a grill and a satellite dish inspired Campbell's friend to suggest that they build their own.
The first trailer was intended to be their personal party wagon. But the reaction from the tailgating community hinted at bigger things.
"We took it to the SC games and the response was so positive we thought that maybe this was a viable business," Campbell said.
After traditional advertising efforts weren't generating business, Campbell started hauling the trailer to games at the Los Angeles Memorial Coliseum and the Rose Bowl, indulging his love for USC football while getting exposure for his product. Orders started trickling in, word of mouth led to more sales and customers finally began finding him in cyberspace - leading to orders from Seattle, Texas, North Carolina and other locales.
And he'll keep doing the kind of personal market research that comes naturally to a tailgater.
"Unlike a lot of guys, I actually use my product," said Campbell, who's pictured on the Gameday Web site in full tailgate mode, beer cup in hand. "I know what works through personal experience."
Copyright 2018 The Lawrence Journal-World. All rights reserved. This material may not be published, broadcast, rewritten or redistributed. We strive to uphold our values for every story published.