Photo Gallery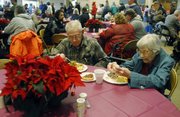 Community Christmas Dinner
-->
A lot goes into preparing Christmas dinner for 900 of your closest friends and strangers.
There's a dozen tables to set up, with folding chairs arranged around each. There's the poinsettias, three to a table, to be displayed on top. There's pie to cut, drinks to pour and coffee to brew.
Then there's the real food: trays and trays of turkey, ham, cranberries, potatoes, dressing and vegetables to be served by the more than 125 volunteers who help put the dinner together.
For the 14th year Tuesday, Lawrence's First United Methodist Church was home to the Community Christmas Dinner.
"I've been doing it the whole time it's been here," said Brower Burchill. "Some of the original people are still with us on the planning committee."
Burchill said that though Methodist church leaders are gracious in allowing the use of their kitchen and facilities, the lunch is organized by a variety of unaffiliated individuals.
Liz Miller said she's been volunteering at the dinner for five years with her friend Jane Garvin.
"We do it in memory of our fathers," Miller said. "They liked to help people."
David Baldwin is new to the dinner - he began volunteering last year - but his experience with catering at a hotel made him a natural choice to help bring the event together.
Baldwin said volunteering to serve others a Christmas dinner is the best thing he can do, because his family is spread out and unable to come together on Christmas Day itself. Instead, they'll gather this weekend and celebrate the holiday.
When he discovered the community dinner, he decided it was the best thing he could do to honor the real meaning of Christmas.
"I think this is a whole lot more Christmas-like than giving gifts," he said. "I love the people you talk to. Everybody's here, enjoying themselves. It's a true Christmas-like atmosphere."
The dinners weren't just for those who could make it downtown Tuesday.
A number of other locals also brought food to those who could not leave their homes.
In all, Burchill said organizers had planned to serve at least 900 meals - as they have in years past - and volunteers agreed that the placed was packed all day long.
Copyright 2018 The Lawrence Journal-World. All rights reserved. This material may not be published, broadcast, rewritten or redistributed. We strive to uphold our values for every story published.