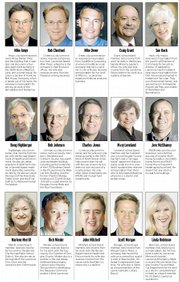 Related document

Lawrence Ethics Policy ( .PDF )
Related document

Sue Hack SSI ( .PDF )
This isn't their entire life: Consent agendas full of bids and bills, regular agendas full of rezonings and requisitions and executive sessions full of, well, lots of things they have to keep private.
No, in Douglas County, there's really no such thing as a full-time politician, at least not one who draws a full-time salary. Elected leaders on the City Commission, Lawrence School Board or County Commission all have other jobs or spouses who bring in regular paychecks.
But that can lead to a host of complications and questions for elected officials who are voted into office to watch out first and foremost for the public's interest, but likely can't afford or don't desire to put their private business interests on hold either.
"If you hold elected office, it doesn't mean you can't be a business leader, it doesn't mean you can't be involved in a lot of ventures," said George Frederickson, a professor in Kansas University's department of public administration and an expert in governmental ethics. "The question is always where you draw the line."
Following more than a month's worth of controversy over open meetings and conflicts of interest related to a $1 million economic development package given to Deciphera Pharmaceuticals, some members of the public are looking for a bright line.
Several elected leaders said this week that they have one, but it most often is in their mind, instead of on a piece of paper that can be pointed to.
"I've always worked on the principle of when in doubt, err on the side of caution," City Commissioner Rob Chestnut said. "That is my mantra in a lot of ways."
Douglas County Commissioner Bob Johnson - who has faced allegations of improperly participating in the Deciphera deal because he owns about $8,000 in the company's stock - operates on an easy-to-remember philosophy as well.
"Transactions should be at an arm's length, and they should always look OK in the light of day," Johnson said. "That's the code of ethics I work on."
Problematic practice
But governments can and sometimes do have written codes of ethics.
Frederickson serves as the part-time ethics administrator for the Unified Government of Wyandotte County. He oversees an ethics code - 20 pages in length - that covers all elected officials, appointed officials and employees of the unified government.
The city of Lawrence actually has a written code, but it would be an understatement to say that it isn't discussed often. It was passed in 1991, and it is unclear whether it has ever been discussed in a meeting since then. Commissioners are given the document as part of a packet of materials when they first join the commission.
"I had forgotten that we had it," said City Commissioner Boog Highberger, who was reminded after City Manager David Corliss sent out a copy via e-mail to commissioners last week.
Frederickson, who lives in Lawrence, said he has noticed practices in Douglas County governments that create ethical concerns.
One involves current Lawrence Mayor Sue Hack.
Hack is an employee of the Lawrence Chamber of Commerce, serving as the organization's director of Leadership Lawrence. The chamber, however, receives funding from the city to conduct economic development marketing activities. In the past, Hack has not abstained from voting on portions of the city budget that include the chamber funding.
"Wherever a relationship like that is in place, it is problematic," Frederickson said. "When you get their employees serving in public office, it is problematic."
Highberger also reluctantly admitted he has concerns about Hack's employment with the chamber.
"I think the mayor's employment by the chamber of commerce does present some gray areas for us on a regular basis," Highberger said.
Hack didn't return phone calls seeking comment on this story. Previously she has said she is able to separate chamber business from city business without creating a conflict.
Other issues
Frederickson said he also has had concerns with how the commission has conducted itself over the years in regard to rental regulations. Previous City Commissions have on several occasions dealt with rental regulations, but it has been infrequent that commissioners who also are landlords have recused themselves from voting on rental matters.
"I think the commission has been pretty casual about that in the past," Frederickson said.
It could end up being an issue for this commission. Neighborhood associations have asked for tougher rental regulations, including the licensing of all apartment units in the city. Two city commissioners - Hack and Mike Amyx - have rental property in the city.
County Commissioner Charles Jones said he also would like to discuss creating guidelines for how business owners and others who have many clients in the community must conduct themselves when hearing public issues that involve those clients. Jones said he doesn't know that the matters are being handled improperly, but he does know it creates rumors around town.
"I don't want to trade in those rumors, but I think the public has the right to be confident that there is no conflict of interest," Jones said. "I think it is a legitimate issue to take on with the creation of an ethics policy."
More talk
The county does not have a written ethics policy that covers elected officials, although employees are covered by several policies that contain ethics clauses, County Administrator Craig Weinaug said.
The city's policy doesn't go into much detail on what type of relationships should cause an official to recuse him or herself. The Wyandotte County policy, for example, gets so specific that it talks about its being inappropriate to participate in public deals involving business interests held by the spouse, child, brother or sister of the elected official.
Some city leaders said they're willing to take a look at the city's existing ethics policy.
"If I'm asked whether we should take a look at this ethics statement, I would heartily agree that it ought to be reviewed," Corliss said. "It's going on 17 years old."
Frederickson - who is not familiar with Lawrence's ethics policy - said a discussion by elected officials may be in order. He said he has not closely followed the Deciphera controversy, but said it sounded "relatively minor." He also said that Lawrence and Douglas County have had a long-standing reputation for "clean government," and may not need a policy as strict as Wyandotte County, which had a history of corruption problems until the policy was put in place.
But he said that shouldn't stop the officials from talking about ethics and reviewing policies. He said they should keep a simple principle in mind and then create specific regulations.
"The idea of conflict of interest is not to discourage people from making money," Frederickson said. "The idea is that they're never personally enriched by holding office."
He also suggested one broad goal for the community, home to a university that has produced some of the top public administrators in the country.
"I think a city like Lawrence ought to pride itself in running the cleanest government in the state."
Copyright 2017 The Lawrence Journal-World. All rights reserved. This material may not be published, broadcast, rewritten or redistributed. We strive to uphold our values for every story published.