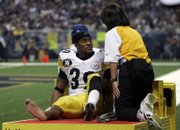 St. Louis — Willie Parker's season ended after his first carry, and the Pittsburgh Steelers will miss the NFL's leading rusher if they get to the playoffs. But they don't miss him yet.
Najeh Davenport, a career backup running back with typical non-descript statistics, has two huge games since entering the league as a fourth-round draft pick of the Green Bay Packers in 2002. Both have come against the St. Louis Rams, with Davenport's three-touchdown, 123-yard rushing effort pacing a 41-24 victory on Thursday night.
"I took it upon myself to put the offense on my back and carry it," Davenport said. "He's our guy, he's our breadwinner. Not having him, everyone has to pick it up a level."
Parker was hurt in the first quarter, the Steelers plenty of time to adjust to the new reality.
"Our heart goes out to him because he's a competitor, he's a warrior," coach Mike Tomlin said. "As a team, we're not going to throw a pity party. It's part of the game, people get hurt, we'll adapt and improvise and move forward."
The Steelers' top-rated defense was porous again, yet they made enough stops to help Pittsburgh (10-5) out of a late-season swoon and move one step closer to the playoffs. They're still thinking beyond just a playoff berth, though.
"With Willie down it's going to take something away from us," said Nate Washington, who caught two touchdown passes. "If we dwell on Willie being down it's going to be that much tougher for us to get to (the Super Bowl), and we don't need anything else making it hard for us."
Isaac Bruce caught a 12-yard touchdown pass and moved into third place on the career yards receiving list, moving ahead of James Lofton, for the Rams. Marc Bulger threw three touchdown passes but was intercepted twice.
Copyright 2018 The Associated Press. All rights reserved. This material may not be published, broadcast, rewritten or redistributed. We strive to uphold our values for every story published.