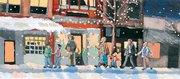 Holiday music events, gift ideas, activities for kids, food, decor & much more!
Here are some easy holiday decorating ideas from interior designer Libby Langdon of HGTV's "Small Space, Big Style":
¢ Trim thin branches and twigs (3 to 4 feet long) from shrubs in your yard. Set them in a vase or pitcher, and hang tiny ornaments from them. If the branches are heavy, fill the container with rocks or sand to anchor them. Tie bark or greenery around the container and secure it with a ribbon.
¢ Spray tall twigs with white spray paint. While the paint is still wet, sprinkle with silver glitter. Once the twigs have dried, shake them to remove the excess. Set them in a silver ice bucket or a tall, cylindrical glass vase filled with green moss. If desired, add tall sprigs of red berries. The arrangement is great for a mantel, fireplace hearth or entry table.
¢ Combine tall twigs and red silk orchid stems from a craft store in a simple clear vase or silver ice bucket. Wrap the vase with a wide, hunter-green satin ribbon. Langdon recommends flanking the front door with two of the arrangements for a party.
Copyright 2018 The Lawrence Journal-World. All rights reserved. This material may not be published, broadcast, rewritten or redistributed. We strive to uphold our values for every story published.