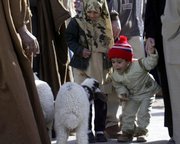 U.S. deaths
As of Thursday, at least 3,896 members of the U.S. military have died since the beginning of the Iraq war in March 2003, according to an Associated Press count.
Baghdad — A suicide bombing northeast of the capital and a car bombing in Baghdad on Thursday shattered the calm of an otherwise unusually peaceful holiday period in Iraq. Authorities said 19 people were killed in the two attacks, including a U.S. soldier.
The suicide bomber struck in Kanaan, a Shiite-dominated town near the city of Baqouba in Diyala province, about 35 miles northeast of Baghdad. He detonated his explosives as a U.S. patrol was about to enter a building where a city council meeting was to be held, the U.S. military said.
The U.S. military said one soldier and five civilians were killed, and that 10 more soldiers and one Iraqi were wounded. However, local police and the hospital morgue in Baqouba said 13 people were killed at the scene. An official with the morgue, who asked not to be identified as he was not authorized to release the information, said one more person later died of his injuries, bringing the total to 14.
The discrepancy could not immediately be reconciled. It was unclear how many Iraqis were wounded in the attack. The assistant police chief of Kanaan, Capt. Waleed Mitieb al-Karkhi, said they included three children and two women.
In Baghdad, a car bombing killed four people and wounded another nine outside a store selling liquor in the center of the city, police said.
Despite the bombings, this season has been markedly calmer than the same time last year, when at least 80 Iraqis were killed on the first day of Eid al-Adha, one of the most important holidays of the Islamic calendar.
So far this month, 536 Iraqis have died in war-related violence - compared to 2,309 last December, according to an Associated Press count.
Violence across the country has fallen by about 60 percent in recent months. The drop has been attributed largely to a combination of this summer's increase in U.S. troops in Baghdad, a freeze on activities by the Mahdi Army militia and the appearance of "awakening councils" - Sunni Arab tribesmen who have turned against al-Qaida in Iraq.
In Washington, President Bush said more work remains to be done in Iraq, especially in terms of political improvements in the country.
"Are we satisfied with progress in Baghdad? No, but to say nothing is happening is not the case," Bush said.
Copyright 2018 The Associated Press. All rights reserved. This material may not be published, broadcast, rewritten or redistributed. We strive to uphold our values for every story published.