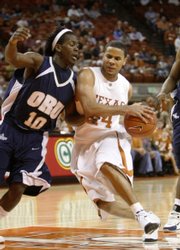 Austin, Texas — Texas slugged its way through a tough battle on its home court. Now comes a Top 10 test for the unbeaten Longhorns.
D.J. Augustin scored 24 points, and the fourth-ranked Longhorns beat Oral Roberts 66-56 on Tuesday night, a close game in a season full of blowouts.
Next up is No. 9 Michigan State at Auburn Hills, Mich., on Saturday
"We keep playing like we're playing, we'll be all right," Augustin said.
Texas had won nine of its first 10 games by 15 or more points - the close one was a 63-61 victory over then-No. 2 UCLA - but found itself in a tough one down the stretch against the Golden Eagles.
Augustin's dazzling drives and late free-throw shooting to put the game away. He scored 10 of Texas' final 17 points. Connor Atchley added 16 points for the Longhorns.
"Coach just wanted us to be aggressive and attack their big men and attack their guards. Everybody stepped up tonight and played great," Augustin said.
Texas led 49-46 with just under nine minutes left when Augustin took the game over, blowing past defenders for baskets or drawing fouls for free throws. He was 6-of-20 from the field but made up for it with an 11-of-12 effort from the line and timely layups when Texas needed them.
Oral Roberts coach Scott Sutton said the officials were calling a tight game, allowing Augustin to draw fouls by getting contact with defenders.
"It makes it almost impossible to guard D.J. because he is so good with the basketball and he is so quick," Sutton said.
Copyright 2018 The Associated Press. All rights reserved. This material may not be published, broadcast, rewritten or redistributed. We strive to uphold our values for every story published.