Photo Gallery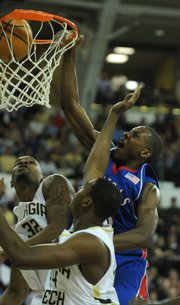 KU vs. GT
NBA scouts from 30 of the 32 teams in the league attended. There were a total of 31 scouts in all. San Antonio Spurs' general manager R.C. Buford, whose son Chase plays for the Jayhawks, attended.
¢ Crane guards: Chicago's Crane High School is the alma mater of current KU sophomore point guard Sherron Collins and former Georgia Tech lead guard Will Bynum, who now plays pro ball in Europe.
To his credit, Bynum did not try to pressure his good buddy, Collins, to choose the ACC school over KU in recruiting.
"He didn't tell me to go there. He wanted me to go where I was most comfortable," Collins said. "I still talk to him once in a while. He's playing overseas, so there's a big time difference. I'm close to him, especially when I go back home. We get together and play basketball."
¢ Feeling better: Collins, who had 11 points, three assists and three steals versus the Yellow Jackets, said he's inching closer to 100 percent recovered from Nov. 12 surgery to repair a stress fracture in his left foot.
"I feel better. It's not a pain, but a strength thing," Collins said.
Of coming off the bench: "I am all right with it. It's like last year. Coach said I was good enough to start and should be starting. Mario (Chalmers) and Russell (Robinson) are playing good, and Brandon (Rush) is playing good. I just want to win, actually."
¢ Buchan works at Tech, now: Dean Buchan, former KU assistant athletic director/media relations who worked at Wake Forest in a similar role for the past seven seasons, now is assistant AD at Georgia Tech.
He attended KU's shootaround Tuesday morning and the Tech-KU game Tuesday night.
Buchan, who worked as KU's basketball publicist from 1990 to 2000, was asked if he was rooting for KU or Georgia Tech.
The answer was Tech, of course.
"They pay my checks," he said.
¢ Stats, facts: Rush had a career-high-tying four blocks. Sasha Kaun had three blocks. ... Darrell Arthur did not score in double figures for the first time all year. ... Russell Robinson's 17 points were a season high. His three steals moved his career total to 191 and moved him past Kevin Pritchard for sixth on the all-time steals list. .. KU is 11-0 for the first time since 2004-05 when KU opened 14-0.
¢ O'Shea lauds KU again: Ohio coach Tim O'Shea, whose Bobcats were thumped by KU, 88-51, on Saturday at Sprint Center, was lavish in his praise of KU immediately after the game.
A day after the game, he told ESPN's Andy Katz, "I must have been off my medication when I scheduled that one. Their second five could probably win 25 of the 31 conferences. I'm not sure how they're not favored to win the (national) title. Everyone in their top 10 is going to play basketball at a high level."
O'Shea told Katz he's spoken to Boston College coach Al Skinner, whose B.C. team plays host to KU on Jan. 5. The message? "Good luck with that one."
Copyright 2018 The Lawrence Journal-World. All rights reserved. This material may not be published, broadcast, rewritten or redistributed. We strive to uphold our values for every story published.