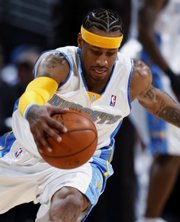 Denver — Allen Iverson is no longer The Man he was in Philadelphia.
Carmelo Anthony holds that title in Denver. So Iverson, the former MVP and four-time scoring champion, is content being The Wingman.
"I'm happy," declared Iverson, who doesn't regret leaving Philly a year ago today and bringing his gritty game to the Rocky Mountains.
"What I went through there is definitely past. I'm gone. I'm not thinking about that," Iverson said. "I'm comfortable here. I'm cool. We're still growing as a team. We're getting better."
Although the Nuggets still are trying to develop an identity after another injury-riddled start to the season, Iverson sees a lot of potential - more, he insists, than he ever saw in Philly.
"The talent level is a lot better than what I played with in my career," Iverson said. "I'm happy to be on a team where I have an opportunity to win."
New pact in works
He's so optimistic about Denver's future he's talking about opting out of his current contract and re-signing this summer for six years, although the Nuggets would face a big luxury tax because the deal would extend beyond his 36th birthday.
"Yeah, hopefully we can get something done," said Iverson, who is making $19 million this season and is scheduled to make $20.8 million next year. "But that's not up to me. My whole thing is to play every game like it's my last game. Playing hard for 48 minutes and give everything I have and that contract thing will take care of itself."
Nuggets player personnel director Mark Warkentien doesn't talk about contracts during the season, but neither the team nor Iverson wants a change.
But does it make sense to give a 32-year-old player a maximum deal?
"One thing I'll give A.I. is he has a superhuman body. He's proven that over the years," Denver coach George Karl said.
Last December, Iverson soured on his relationship with Philadelphia coach Maurice Cheeks. Iverson was deactivated for his final six games before Denver came up with the right package of players and picks to pry him away.
Big names can coexist
At first it seemed Iverson had traded one dysfunctional team for another.
For the first 21â2 months with Denver, Iverson was part of a roll-the-dice lineup in constant flux because of injuries, illnesses, trades and suspensions. Although Iverson and 'Melo showed two superstars can coexist, the Nuggets still were bounced from the playoffs by San Antonio in the first round last spring.
This year, the Nuggets once again have been forced to play with creative lineups due to a rash of injuries. Still, they lead the Northwest Division and expect to get it together in time to make a run in the playoffs.
So far, Iverson hasn't clashed with Karl, who gives the 1996 No. 1 pick lots of leeway to do his thing and accepts his turnovers as a consequence of his unique style.
Karl vehemently defended Iverson when Charles Barkley criticized Iverson as selfish after a recent 51-point performance.
"You're always going to have your Barkley taking a 35 and 12 game and criticizing it," Karl said. "I don't get it. People still criticize our defense. We're not a great defensive team on an every-possession basis, but we have moved into a pretty good defensive team statistically."
Copyright 2018 The Associated Press. All rights reserved. This material may not be published, broadcast, rewritten or redistributed. We strive to uphold our values for every story published.