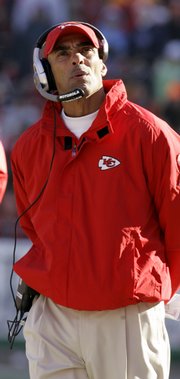 -->
Kansas City, Mo. — Coach Herm Edwards apologized to Kansas City Chiefs fans Tuesday for telling them to "get over it," and said he should have chosen his words more carefully in talking about their reaction to his team's long losing streak.
The Chiefs (4-10) have lost seven in a row in Edwards' second season and could be headed toward their worst record in two decades. A 26-17 loss to Tennessee on Sunday before an angry, half-empty stadium closed out a 2-6 home record - their worst since the 1977 team was 1-6 in Arrowhead.
Many fans wore bags over their heads and even more brought signs demanding that either Edwards or general manager Carl Peterson be fired. Several signs taunted Edwards for his statement last week when he said fans should "get over" this bad season.
"People aren't used to this in Kansas City. Get over it," Edwards said then. "It happens. It's called life. You can't think you're too big that it's not going to happen to you. It happens to everybody."
On Tuesday, Edwards agreed the statement had angered many fans.
"And probably the ways the fans took it, in my opinion, was probably wrong," he said. "So if it was misinterpreted, then I apologize."
Many fans had also taken issue with Peterson's assertion that a season like this never happened before in Kansas City. Older ticket-holders remember the lean years before Peterson and Marty Schottenheimer arrived in 1989 and turned the franchise around.
From 1975 through 1988, the Chiefs were mostly an NFL sad sack, winning only four games in both 1987 and 1988 and two in 1977.
"I tell players, 'Pick your words,"' Edwards said Tuesday. "And I didn't use the right choice of words, obviously. And that's my fault. That's on me. And I'm willing to accept that. This organization went through that in the early times. There's no doubt about it."
Edwards has frequently praised fans for their loyalty to the Chiefs over the years. Kansas City has not had a local TV blackout since 1991.
"I just think people are all disappointed in how the outcome of this season has taken place thus far, and they've got a right to be."
Edwards also said running back Larry Johnson, sidelined the past six games because of a foot injury, might get on the field this week at Detroit. Johnson has been slowly doing more and more and could actually go through a full practice this week.
"We're going to try to limit him some and see what he can do in practice, see where he's at," Edwards said.
Copyright 2018 The Associated Press. All rights reserved. This material may not be published, broadcast, rewritten or redistributed. We strive to uphold our values for every story published.