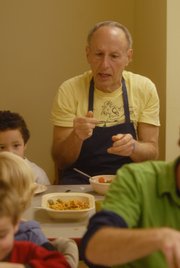 This is how much the preschoolers at Head Start love Mr. Phil.
It used to be, every time he walked into a classroom to deliver food, the students all wanted to get up and give him a hug. This created a logistical nightmare for teachers trying to do their daily lessons.
So instead, the teachers started having the kids "throw" a group hug to Mr. Phil. He shimmies with a big smile to let them know he did, in fact, receive their hugs.
These are the moments Mr. Phil - Phil Minkin - will miss.
After 33 years as chef for Lawrence's Head Start program, Minkin will retire on Friday.
"You have 78 kids who think you're the greatest thing since sliced bread," Minkin says. "I'll be in the grocery store and see a 6'2" guy who says, 'Mr. Phil, you used to cook for me.'"
Minkin, who has a degree in restaurant management from Michigan State University, worked as a chef at several Kansas City-area restaurants before he got burned out.
So he and a friend moved to Lawrence to start a commune ("That never quite happened," he says), and eventually he applied for the job with Head Start, a preschool for low-income children ages 3 to 5.
"I like cooking, and I don't like management," Minkin says. "I'm a far better cook than a manager."
He would only miss eight days of work for the next 33 years.
The job involved preparing breakfast, lunch and a snack for the 78 students involved in the program. The children eat family-style in their classroom.
"I try to introduce the kids to new foods," Minkin says. "Part of the job is maintaining a balance - what's best from a nutrition standpoint, with what kids will eat."
For instance, he could serve plain oatmeal for breakfast. But he's figured out the children will only eat it with a little sugar.
Or, on the flip side, he's found the preschoolers will eat French fries without ketchup, which is high in sugar.
Minkin, 65, says children sometimes don't get enough credit for trying new foods. But he says he's had luck with Brussels sprouts, kiwi, asparagus, lima beans and jicama, among others. And children especially like spinach, he says, and this year cauliflower is popular.
"Every year is somewhat different," he says. "For some reason this year, they're not interested in JELL-O."
Minkin has gone out of his way not to just serve typical school cafeteria foods. For instance, he makes chicken parmesan with diced chicken instead of a whole breast, and a scaled-back chicken curry.
"Nothing that makes the backs of your knees sweat, like you'd get at an Indian restaurant," he says.
Though most of his job is in the kitchen, Minkin takes time to teach about nutrition, whether it's having children wash fruits and vegetables in the classroom or sending home nutritional information sheets to parents.
'Best job'
Minkin has been a positive male role model, says Carolyn Kelly, executive director of the local Head Start program.
"He's been a rock for our program for so many years," Kelly says. "We're very saddened to see him retire. The kids adore Mr. Phil. They absolutely love him."
Kelly says Minkin has done a good job of getting children to eat food, especially since young children can be picky eaters.
"We have our little policy of taking a 'no-thank-you' bite," she says. "Everyone gets to experience and taste the food. We do ask, but we don't force them to try anything."
As for retirement, Minkin says he doesn't have any big plans. He'll cook more at home and watch a lot of movies - he's a big movie buff. He also is president of the Douglas County chapter of the American Civil Liberties Union.
"I tell people frequently this is the best job in Lawrence," he says of Head Start. "I want to make sure I quit while I still think this is the greatest job in Lawrence."
As for his last meal on Friday, Minkin says he hasn't prepared anything special.
"It's like the condemned man's last meal," he says with a laugh. "I haven't really given it any thought."
He pauses and jokes that he should prepare steak and lobster for the children on Friday.
But, he admits, "they'd probably rather have pizza."
Copyright 2018 The Lawrence Journal-World. All rights reserved. This material may not be published, broadcast, rewritten or redistributed. We strive to uphold our values for every story published.