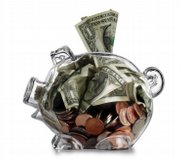 Related document

GAO report ( .PDF )
Slim savings
Younger workers are the least likely to be saving money in a defined-contribution savings plan - such as a 401(k) - for retirement, according to a report compiled by the Government Accountability Office. Rate of workers participating in such plans, by age group:
¢ 19-29: 24 percent
¢ 30-39: 36 percent
¢ 40-49: 41 percent
¢ 50-59: 43 percent
¢ 60-64: 45 percent
As Kansas University students fan out across the country for the winter holidays, and as other students and otherwise young workers make their way back to Lawrence to visit family, some festering financial concerns just may be lingering beneath the surface of their otherwise festive gatherings.
Turns out young people generally aren't saving much for retirement, leaving them vulnerable to discovering a lump of coal in their nest egg come their retirement years.
"Today's workers will likely struggle to make ends meet during retirement than previous generations," Rep. George Miller, D-Calif., told MarketWatch last week, after receiving a report analyzing savings patterns. "While Social Security faces long-term challenges that must be addressed, this GAO report makes it clear that the real retirement security crisis is the lack of savings in private retirement plans."
The Government Accountability Office report, requested by Miller, shows that workers born in 1990 likely will have saved enough in 401(k) and other defined-benefit plans to replace only about 22 percent of their preretirement income, or about $18,784 a year in 2007 dollars.
Even more jarring: "Projections show almost 37 percent of workers reaching retirement with zero plan savings," the report says.
So, just how can parents convince their kids of the importance of bucking the trend and saving for their golden years?
Tony Hayden has an idea: Try for a little cause and effect, like grandparents who offer to pay for a grandchild's tuition provided he or she keeps up good grades.
A child not saving for retirement can become someone missing out on a parent's generosity.
"You say, 'For every dollar that you save, I'll keep you in the inheritance. But if you don't, I'm going to leave it for charity, because you obviously don't care,' " said Hayden, a financial planner for Keating & Associates/Raymond James Financial Services in Lawrence. "It comes down to process and consequences.
"The kids may not be able to grasp the concept of, 'If I do not save, I will not be able to retire,' because their brains aren't tooled that way. : But I think if parents give them a more immediate consequence - such as, 'I can leave my IRA or my 401(k) to a charity, or you' - they might."
Hayden remembers what it was like to be in his early 20s, when even his 30s seemed to be far off, not to mention his 40s, 50s and 60s.
But he's just entering his 40s now - for real - and parenthood is upon him and retirement is fast approaching.
It's an inescapable reality for anyone who works, and that's why saving needs to start early.
"It will come," he said. "For people, typically their lifestyle is something not that they strive towards, but it's something that they live within. And, quite honestly, if they save 5, 10 percent, they're not going to miss it, because it will be factored into their lifestyle."
Setting aside a relatively painless amount of money now, as a young worker, will give you a better chance of avoiding the prospects of making larger financial sacrifices later, or otherwise running short on retirement savings once the supposed golden years arrive.
"I don't know if that's a good motivational point, but you're not going to miss it," Hayden said. "You say you will, but you really won't. People can spend away 10 percent of their income on a given day, week, month, quarter or year on very meaningless endeavors."
Who knows? Some parents' wishes - that their youngsters get the message on retirement savings - just may end up being part of another holiday ritual: New Year's resolutions.
Copyright 2018 The Lawrence Journal-World. All rights reserved. This material may not be published, broadcast, rewritten or redistributed. We strive to uphold our values for every story published.