Photo Gallery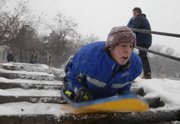 Sledding
Students hit the slopes on the KU campus to enjoy the fresh snow Thursday, December 15, 2007.
Tanya Longabach took Saturday's snow in stride.
The southwest Lawrence resident was able to take her children sledding in the morning. Although side streets were slick, main streets were OK, and she even made a trip to downtown Lawrence once the flakes stopped falling in the afternoon.
"I can't imagine what I would be doing without power," Longabach said. "Especially if it's more than several days."
Thousands of other Kansans are still dealing with that hardship after an ice storm struck last week - crippling much of Jefferson County - and 6 to 12 inches of snow fell on some north-central and central Kansas counties Friday and Saturday.
National Weather Service forecasters in Topeka estimated about 2 inches of snow fell in the Lawrence area Saturday. It caused some inconvenience for holiday shoppers, but public safety officials reported no major accidents around town.
Two wrecks were reported after 2 p.m. Saturday on Interstate 70. Two people were taken by ambulance to Lawrence Memorial Hospital with nonlife-threatening injuries from a wreck in the eastbound lanes 5 miles west of Lawrence, said Division Chief Doug Green, of Lawrence Douglas County Fire & Medical.
A Kansas Turnpike Authority dispatcher said reports were not finished Saturday evening on some wrecks during the day - including one reported 2 miles east of the east Lawrence exit.
Bill Gargan, a National Weather Service meteorologist, said much of eastern Kansas had a dry layer of air about 1,500 feet above the surface Friday night. As the snow fell overnight, it evaporated before hitting the ground, and it made for less overall accumulation.
That was great news for Jefferson County, which was spared another ice storm scenario that it suffered earlier this week. About 1 to 1.5 inches of snow fell across the county, said Emergency Management Director Doug Schmitt.
"We're very thankful; I think we caught a break, definitely," he said.
It was welcome after utility company crews were still working through the snow to restore electricity in some areas after 75 percent of the county was without power earlier this week.
According to Westar Energy's Web site, 860 Jefferson County customers were without power Saturday evening. Also, Leavenworth Jefferson Electric Cooperative reported less than 500 outages as of Saturday afternoon, which is about 1,000 less than on Friday.
Cooperative officials expect their service area to be completely restored by late Tuesday, said Shana Holsteen, a spokeswoman for Kansas Electric Cooperatives Inc.
The area forecast for coming days provided another batch of good news. It was supposed to be chilly overnight, with a high of only about 30 degrees today. But temperatures are expected to creep higher Monday at 37 degrees and into the 40s Tuesday and Wednesday, said Matt Wolters, a National Weather Service meteorologist.
Copyright 2018 The Lawrence Journal-World. All rights reserved. This material may not be published, broadcast, rewritten or redistributed. We strive to uphold our values for every story published.