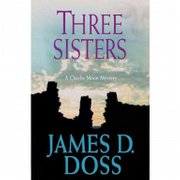 James D. Doss' novels about Charlie Moon, a Colorado rancher and Ute tribal investigator, feel as if the author is sitting around a campfire, spinning a tall tale that engulfs a circle of listeners.
That's the way Doss' 12th novel in this series feels as this storyteller saturates "Three Sisters" (Minotaur/St. Martin's Press, $24.95) with twists, turns and an affinity for odd, cantankerous but authentic characters.
One of the "Three Sisters" is Cassandra Spencer, Colorado's most famous TV psychic, and her ratings just got a little higher since she was able to describe a murder at a truck stop as it was happening.
So how come Cassandra couldn't predict the violent death of her oldest sister, a newlywed? And just why would Cassandra and her other sister be courting the widower of their deceased sibling?
Cassandra's so-called psychic powers are nothing compared to Charlie's Aunt Daisy, a crotchety old woman and a Ute shaman whose connections to the spirit world are nonparallel. Of course, the investigative skills of Charlie and his best friend, who also is the police chief, aren't too shabby, either.
"Three Sisters" moves at a brisk pace, and the surprising end is both a unique twist and a highly satisfying look at justice.
As usual, Doss' tale is evocative of the area and of Indian lore, and his chatty, down-home style shines in "Three Sisters."
Copyright 2018 The Lawrence Journal-World. All rights reserved. This material may not be published, broadcast, rewritten or redistributed. We strive to uphold our values for every story published.