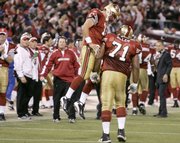 San Francisco — From the third-string quarterback to the $80 million cornerback, the San Francisco 49ers finally came together as the team they imagined three months ago.
And from Cincinnati's awful opening drives to Chad Johnson's final drop, the Bengals' season fell apart in ways they couldn't believe.
Shaun Hill passed for 197 yards and a touchdown and ran for another score in his first NFL start, and the 49ers beat the Bengals, 20-13, on Saturday night for just their second victory in 12 games.
Frank Gore rushed for a season-high 138 yards, and Darrell Jackson had a season-high eight catches for 86 yards in a surprisingly effective San Francisco attack led by Hill, a six-year veteran backup who threw his first NFL passes last week after Trent Dilfer got a concussion.
With Alex Smith also sidelined, Hill was the only quarterback left in San Francisco - and he improbably sparked the 49ers' league-worst offense to the club's first home victory since opening week. Hill went 21-of-28, hitting Vernon Davis with a precise TD pass nine seconds before halftime and generally running the show with confidence.
"I had confidence in myself, but obviously it's nice to go out and actually do it," said Hill, whose last start was for NFL Europe's Amsterdam Admirals in 2003. "It's one thing to sit there and visualize everything and feel like you can make all the plays. It's another to go out and do it."
Copyright 2018 The Associated Press. All rights reserved. This material may not be published, broadcast, rewritten or redistributed. We strive to uphold our values for every story published.