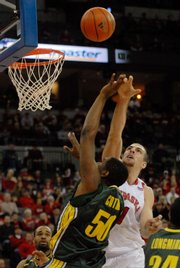 Omaha, Neb. — After so much had gone so wrong for No. 16 Oregon, coach Ernie Kent figured his Ducks would win when Tajuan Porter went to the free-throw line for a chance at a rare four-point play in the final seconds of regulation.
Porter's seventh three-pointer tied it, but he missed his only free throw of the game Saturday, and Nebraska dominated the overtime, winning 88-79.
"I thought we were going to steal one when we weren't playing particularly well on the road," Kent said. "We opened the door for them, and they took full advantage of it."
Aleks Maric scored 23 points, including a putback that broke open the game in overtime, and Nebraska overcame Oregon's season-high 14 three-pointers to beat a Top 25 opponent for the second time in five tries in Doc Sadler's two seasons as coach.
This one was worth celebrating for a Nebraska program that, historically, hasn't had much to celebrate.
The Huskers got strong support in their first-ever "home" game at the Qwest Center, 60 miles from their campus in Lincoln. After the final buzzer, hundreds of students rushed the court from their end zone seats and high-fived players as they made their way to their locker room.
"They enjoyed it, so hopefully we can do it a lot more," Sadler said.
The Cornhuskers led by as many as 13 points in the second half, but Oregon (8-2) kept coming back behind Porter, who scored 29 points.
Malik Hairston made all five of his three-pointers and added 25 points for the Ducks.
No. 4 Texas 96, Texas State 81
Austin, Texas - Connor Atchley scored 26 points and grabbed 10 rebounds, and the Longhorns held off pesky Texas State to stay perfect through 10 games this season.
D.J. Augustin overcame a 1-of-7 shooting start to score 24 points for Texas, which ran its record to 80-7 against in-state opponents over the last 10 years. A.J. Abrams added 20 points.
No. 11 Pittsburgh 85, Oklahoma State 68
Pittsburgh - DeJuan Blair and Sam Young teamed up inside to help No. 11 Pittsburgh open an 18-point lead at halftime, and the Panthers held off a brief second-half comeback by Oklahoma State.
The Panthers are 10-0 for the fifth season in a row under coach Jamie Dixon after finally finding a way to handle the Cowboys, who kept them out of the NCAA regional finals four seasons ago and also beat them 95-89 in double overtime last season when Pitt was No. 7.
Blair, a 265-pound freshman with strong inside moves and surprising quickness, repeatedly frustrated the guard-driven Cowboys early in the game.
Missouri 81, McNeese State 44
Columbia, Mo. - Matt Lawrence and Stefhon Hannah each had 14 points, and Missouri scored 18 straight points in the first half to put the game away early.
DeMarre Carroll and reserve Marshall Brown added 11 points apiece for Missouri, playing only its second game in two weeks but showing no sign of rust. Coach Mike Anderson might have kept his regulars on the floor longer because of the breaks in the schedule.
Baylor 100,
Wayland Baptist 72
Waco, Texas - Curtis Jerrells scored 18 points, and Kevin Rogers had 17 for Baylor.
LaceDarius Dunn added 14 points, and Henry Dugat scored 12 for the Bears. Michal Polanowski scored 16 points, Jason Griffin added 15 and Tony Jones and Kris Hatley had 11 each for Wayland Baptist, an NAIA school.
Oklahoma 83, Arkansas 72
Norman, Okla. - Longar Longar and Austin Johnson scored 17 points apiece and combined to lead a late run.
Less than a minute after he stiffly limped off the floor after a hard fall, Longar hit two free throws to start a seven-point surge that extended Oklahoma's lead to 75-65 with 21â2 minutes to play. After a three-pointer from Johnson, Longar capped the run with a two-handed dunk.
Longar added a right-handed jam that put Oklahoma up 79-68 with less than a minute left, and the Sooners spent the rest of the game at the free-throw line.
New Mexico 80, Texas Tech 63
Albuquerque, N.M. - Steve Alford says it's never fun to coach against Bob Knight. The last two meetings have been tougher on The General.
Freshman Dairese Gary scored 18 points, shooting 7-of-11 from the floor and hitting all four of his three-point tries, while J.R. Giddens and Chad Toppert each scored 13 points for the Lobos.
It also gave Alford, New Mexico's first-year coach, his second victory in five tries against Knight, his former coach at Indiana.
Copyright 2018 The Associated Press. All rights reserved. This material may not be published, broadcast, rewritten or redistributed. We strive to uphold our values for every story published.