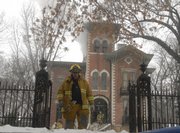 A historic home, commonly known as the Maupin mansion, caught fire Saturday afternoon.
Lawrence-Douglas County Fire & Medical units responded to an emergency call for the house fire at 1613 Tenn. about noon.
The large brick house that dates back to the mid-1800s is listed on the National Register of Historic Places and is owned by Terry and Elaine Riordan.
Fire chief Mark Bradford said a third-story steeple area of the house caught fire, which was extinguished quickly.
"The firefighters had heavy smoke showing from the third story of the residence," he said. "When firefighters advanced their lines to the third floor, they had a heavy fire in that room."
Though the fire was extinguished quickly, it took firefighters "awhile to get to the third floor," Bradford said.
"Obviously it's a very large dwelling," Bradford said. "We'd almost consider it to be a commercial size because of square footage."
He said one occupant was in the home and suffered "minor exposure injuries." The family sought medical treatment on its own, Bradford said.
The couple's 22-year-old son, Mark Riordan, said his 17-year-old brother, Joel, was in the home alone at the time of the fire. Mark Riordan, who lives on East 15th Street, said he arrived at the house when he learned about the fire at noon, about the same time his parents arrived. The room that caught fire used to be his, he said.
"Just one room is damaged; it's still pretty bad, but it could've been a lot worse," Mark Riordan said.
Traffic was blocked at the 1600 block of Tennessee Street to make room for several fire trucks and an ambulance.
Snowfall at noon caused a slight increase in response time, Bradford said. Icy conditions were also a concern.
"This is just one of those environments we get used to," he said.
Bradford said the fire was started by "improper use of smoking materials," and the damage estimate is $5,000.
Copyright 2018 The Lawrence Journal-World. All rights reserved. This material may not be published, broadcast, rewritten or redistributed. We strive to uphold our values for every story published.