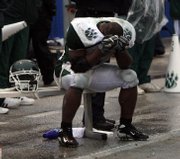 Florence, Ala. — Northwest Missouri State set the very Division II record it was trying to avoid, thanks to a late touchdown by Valdosta State.
Michael Terry scored with 22 seconds left, and Valdosta State beat Northwest Missouri, 25-20, Saturday, making the Bearcats the first team to lose three consecutive D-II title games.
Terry's one-yard TD run capped an eight-play, 37-yard drive sparked by Willie Copeland's four straight completions for 27 yards. Valdosta (13-1) overcame a 14-3 halftime deficit in dropping Northwest Missouri to 12-2.
"I don't know if words can describe the disappointment that I feel for these guys," Bearcats coach Mel Tjeerdsma said. "They've done a great job, and we've had a great run. They got beat by a very good football team."
Valdosta State's William Montford intercepted a desperation pass by Joel Osborn with 16 seconds left to preserve the win, and Blazer fans swarmed the field, soggy after a cold rainstorm blew through.
"We had a four-game playoff run, and in every game we played we were either behind at the half or tied," said first-year Valdosta State coach David Dean. "Our kids never panicked; you never felt like they were out of the game."
Valdosta made its first trip to the championship since 2004, when it beat Pittsburg State 36-31.
Wisconsin-Whitewater 31, Mount Union 21
Salem, Va. - Justin Beaver, the Gagliardi Trophy winner as the best player in Division III, overcame a costly fumble with his normal reliability on the ground Saturday, leading the Warhawks in the soggy, cold Amos Alonzo Stagg Bowl.
Wisconsin-Whitewater won its first national title after losing 35-28 to Mount Union in the 2005 championship game and 35-16 in the rematch last year.
Wisconsin-Whitewater ended Mount Union's 37-game winning streak, and deprived the Purple Raiders of their 10th national title in the last 15 years.
Copyright 2018 The Associated Press. All rights reserved. This material may not be published, broadcast, rewritten or redistributed. We strive to uphold our values for every story published.