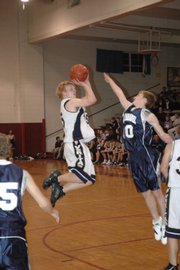 Eudora — For most of the night, it was the Kristie Tiegreen show.
Veritas Christian's senior forward scored a game-high 33 points, all of which helped the Eagles' girl's basketball team keep pace with rival Topeka Cair Paravel throughout Friday's game.
But when the Eagles took only their second lead of the game on Tiegreen's two free throws with less than three minutes to play, it was her teammates who stepped up.
Veritas senior Marteka Carlton and junior Taelyr Shelton hit key baskets in the final minutes to help the Eagles hold on for 49-42 victory.
"It feels great," said Carlton, who scored six points. "We gained a lot of confidence in last week's tournament (The Bluebird Classic) when Kristie fouled out and the rest of us had to step up to win."
Staying close was the easy part for Veritas.
Throughout the first half the visiting Lions led by no more than four, thanks in large part to Tiegreen, who scored 17 of the Eagles' 19 first-half points. The Eagles had their first chance at playing with a lead in the opening moments of the third quarter when Shelton hit a three-pointer for a 22-21 advantage.
Paravel responded with a basket from junior Caitlyn Keller, which helped put the Lions back in front until the final minutes.
The Eagles missed a second opportunity to take the lead early in the fourth as they closed the gap to 35-34, but missed two free throws.
Cair Paravel boys 58, Veritas 35
Veritas Christian's boy's basketball team quickly found itself at the bottom of a first-quarter hole against Paravel.
The Eagles saw the visiting Lions hit six of their first eight shots and build 13-point lead.
"They're a good team, and they pressure well," Veritas coach Doug Bennett said. "They shot well from the perimeter, and we didn't. This is one we just have to forget because we're a better team than this."
Things went south quickly for the Eagles (2-3), as the Lions went on a 16-1 run to begin the game and built a 36-18 halftime lead.
"We just need to play better," Veritas senior Michael Kay said. "We can't go out and turn the ball over and start like that and win."
Copyright 2017 The Lawrence Journal-World. All rights reserved. This material may not be published, broadcast, rewritten or redistributed. We strive to uphold our values for every story published.