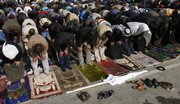 U.S. deaths
As of Friday, at least 3,891 members of the U.S. military have died since the beginning of the Iraq war in March 2003, according to an Associated Press count.
Baghdad — One-third of Iraqi refugees who fled to neighboring Syria expect their money to run out within three months, the U.N. refugee agency said Friday in a report highlighting what some believe is the main reason families are returning to their still-violent homeland.
The report from the U.N. High Commissioner for Refugees, which drew on surveys of Iraqis in Syria, Lebanon and Jordan, found that the refugees were most concerned about money, schooling for their children and lack of work.
A U.N. spokeswoman said those worries - not improved security in Iraq - appear to be the driving force behind the decision by thousands of Iraqis to return. And as savings draw down, U.S. and U.N. officials fear, many more could be forced to come back to a country still unready for them.
Mohammed Wamid, a 55-year-old father of eight, including one son he said died at the hands of al-Qaida in Iraq, left Baghdad for Syria in December 2006. He returned about a month ago after depleting his $6,500 in savings.
"We returned because we have no other choice. The government wants everybody to come back, but we know that security is still fragile," he said.
The Iraqi government, eager to claim credit for the decline in violence, offers returnees free transportation to Iraq, provides protection to the bus convoys and gives families $800 each to help with resettling.
But American and U.N. officials warn that a big return of refugees could rekindle sectarian violence between Sunnis and Shiites and that some returnees have found their homes occupied by members of the other Muslim sect. Even the Iraqi government acknowledges it cannot handle a huge influx.
"If we look at the past weeks, people have run out of money and have felt the necessity to return," said Astrid Van Genderen Stort, a UNHCR spokeswoman.
Nearly 2 million Iraqis are believed to have fled to neighboring Arab countries since 2003 to escape the Sunni insurgency and sectarian violence. Most went to Syria, Jordan and Lebanon. About 2 million more are believed to have moved to other parts of Iraq.
The reasons to stay away are compelling: 57 percent of families had been threatened directly, and 53 percent had survived bombings, the report said. Though violence has dropped dramatically in Baghdad and surrounding areas, bombings, mortar attacks and gunshots are a daily occurrence.
On Friday, the U.S. military announced the deaths of two American soldiers - one shot to death in Baghdad, the other killed by a roadside bomb south of the capital.
Fierce fractures persist even among the Shiites who dominate Iraq's government.
Thousands of followers of radical cleric Muqtada al-Sadr took to Baghdad's streets Friday to protest a triple car bombing in Amarah, one of their southern strongholds, venting their anger at a rival Shiite powerbroker in a sign of the bitter fight for control of the oil-rich region.
No one has claimed responsibility for the attack. Car bombs are a signature weapon of al-Qaida in Iraq, but the group is not known to operate there. And the area in Maysan province has suffered from violent clashes between competing Shiite militias, including al-Sadr's Mahdi Army.
Despite an agreement between their leaders to work together, tension remains high between al-Sadr and followers of Abdul-Aziz al-Hakim, leader of the largest Shiite party in Iraq.
"Amarah will stay under al-Sadr's influence, whether Abdul-Aziz likes it or not," the protesters in Baghdad shouted.
The U.N. refugee survey in Syria was conducted by UNHCR and Ipsos and interviewed a total of 754 families. The study in Lebanon was conducted by the Danish Refugee Council and surveyed 1,020 Iraqi households. The study in Jordan was conducted by the Norwegian Fafo foundation, but did not offer figures on how many Iraqis were surveyed.
According to the U.N. report, 33 percent of Iraqi refugees in Syria will run out of money within three months. In Syria and Lebanon, just over half of children were attending school, although both Syria and Jordan offer schooling to Iraqis.
Copyright 2018 The Associated Press. All rights reserved. This material may not be published, broadcast, rewritten or redistributed. We strive to uphold our values for every story published.