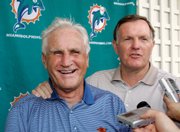 Doral, Fla. — Topics of conversation Friday at a golf outing for the 1972 Miami Dolphins included club selection, hip replacements, Garo Yepremian's throwing arm and spying.
The unbeaten New England Patriots have a chance to eclipse the '72 Dolphins, who went 17-0 for the only perfect season in NFL history. Former Miami coach Don Shula caused a stir last month when he said the Patriots' success is diminished by their spying scandal that prompted punishment from the league in September.
Friday, he declined to elaborate.
"No thanks," Shula said, smiling.
But Shula's former players were willing to tackle the subject as they gathered for a 35-year reunion this weekend. The boys of '72 were divided regarding whether the Patriots' accomplishments deserve an asterisk because of spygate.
"I'm not one of those grouchy old men who's complaining, but it taints the thing," said Yepremian, the former kicker best remembered for an ill-advised pass that went backward in the Super Bowl. "These people did something and got punished what, $500,000? It's a pittance. ...
"But if they do go undefeated, I'll tip my hat to them and wish them the best, and I hope they bring their camera with them to the Hall of Fame."
Following the Patriots' season opener, the NFL determined the team used a video camera to spy on opposing coaches and steal signals. Commissioner Roger Goodell fined coach Bill Belichick $500,000 and docked the team $250,000 and a first-round draft pick next year.
Nonetheless, former Miami safety Dick Anderson said the Patriots' success wasn't tainted.
"I just think they're a superb team," Anderson said.
Bob Griese agreed, but the quarterback of the '72 Dolphins said he found the Patriots' spying in the opener puzzling.
"Why do you have to do that? If you're this good, why do that?" Griese said. "But they're good. What they were doing there didn't help them win that game or any other game."
The Patriots are 13-0 and have a chance to finish 19-0.
"They're pretty good," said Shula, smiling at his understatement. "If they do do it, I'm going to call their coach and congratulate them. ...
"They're a great team. Tom Brady is unbelievable, and they've won some tough games."
Shula attended the Patriots' recent victory at Baltimore, when New England scored the winning touchdown in the final minute.
Yepremian said watching that game - and several disputed late calls - was nerve-racking.
"It really bothers you when games finish but there's a flag and the game keeps on going," he said. "Maybe I don't know the rules."
While the Patriots flirt with perfection, the 2007 Dolphins are trying to avoid a winless season. They take an 0-13 record into Sunday's game against Baltimore, and the 1972 Dolphins will be on hand to provide moral support - but no pep talks.
"There's not a lot you can say," Anderson said. "They know where they are. I don't think any motivation from a 60-year-old former player is going to do a lot for them."
Four members of the '72 Dolphins are deceased, and three others aren't attending the reunion. The rest of the team will be introduced at halftime Sunday.
"I have a feeling the Dolphins are going to win this week," Yepremian said. "I offered my services at quarterback, but they haven't taken me up on that."
Copyright 2018 The Associated Press. All rights reserved. This material may not be published, broadcast, rewritten or redistributed. We strive to uphold our values for every story published.