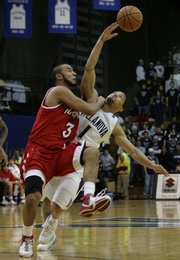 Villanova, Pa. — Villanova's high-scoring offense made up for its struggling defense.
Scottie Reynolds scored 17 of his 21 points in the second half, and No. 23 Villanova pulled away to a 103-75 victory over Hartford on Friday night.
The Wildcats scored more than 100 points in consecutive games for just the second time in school history. Villanova scored 100 or more points in three straight games during the 1969-70 season.
Dante Cunningham had 13 points and 13 rebounds for the Wildcats (8-1), who had five players score in double figures.
"They just have so many weapons," said Hartford coach Dan Leibovitz, whose first trip back to Philadelphia ended in a loss. The second-year Hawks coach played basketball at Penn and then spent 10 seasons as an assistant at Temple to Hall of Fame coach John Chaney.
"You can say we're going to try to take away Reynolds, but really anyone who touches the ball for them is a threat to score. We've played Louisville and BYU, and Villanova has more weapons than either of those teams."
Joe Zeglinski led Hartford (5-7) with 20 points, while Warren McLendon added 19 points and eight rebounds.
Villanova led 66-63 midway through the second half when freshman Corey Fisher started a 14-1 run with a three-pointer. Seldom-used Dwayne Anderson scored on a dunk to put the Wildcats up 80-64.
Fisher hit four three-pointers and scored 18 points, while Shane Clark had 16 and reserve Malcolm Grant 12 for Villanova, which allowed 93 points in a win over Temple on Sunday.
Defense is a concern for Villanova coach Jay Wright.
"We have a lot of work to do, and we know that," Wright said. "Whether people think were a Top 25 team or not, we can't worry about that.
"Our young guys are very athletic, but they're not used to communicating with four other guys at this level defensively."
Villanova shot 56.3 percent (36-for-64) from the field and hit 15 of 33 three-pointers.
Zeglinski kept Hartford in the game with 15 first-half points, but picked up his second foul and went to the bench with 7:16 left in the opening half.
Villanova took a 40-31 lead with a 12-0 run that was capped by a three-pointer by Corey Stokes with 3:01 left in the half.
Hartford got within 44-41 on two free throws by Michael Turner with 1.4 seconds left in the half. The Hawks missed 10 of 19 free throws in the first half.
Copyright 2018 The Associated Press. All rights reserved. This material may not be published, broadcast, rewritten or redistributed. We strive to uphold our values for every story published.