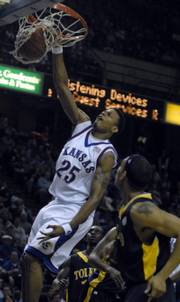 Kansas City, Mo. — Ohio University senior Leon Williams, who played in the NCAA Tournament as a freshman, sorely wants to return as a older, wiser senior.
"I'm trying to bring it full circle - leave how I came in - by getting back to the tournament," said Williams, third-leading scorer on a 21-11 Mid-America Conference champion Bobcat team that scared Florida before falling, 67-62, in a first-round 2005 NCAA Tourney game in Nashville, Tenn.
"I think we have the team. If we take it one game at a time, I'm sure we can get there. There's a lot to be learned from the team I was on my freshman year. We were more hungry, especially me."
Williams, a 6-foot-8, 245-pound preseason all-MAC selection from Baltimore who has started 102 consecutive games, turned in one of the grittiest performances of his career Wednesday back in his home state of Maryland.
He scored 15 points with 15 rebounds in helping the Bobcats stun Maryland - the team he followed as a child - 61-55.
"Leon has had a great career," Ohio coach Tim O'Shea said of Williams, who averages 16.8 points (off 60.6 shooting) and 10.0 rebounds per game for the 6-2 Bobcats. "He was rookie of the year, the MAC Tournament MVP, led us to the NCAA Tournament. Now again as a senior I sense in him that urgency that he wants to get back.
"He's done all the right things in terms of his preparation. He's in the best physical shape he's ever been in. He has the chance to have an outstanding year."
KU coach Bill Self has taken notice.
"Williams is really good. He's somewhat of an undersized guy who can go get his own shot," Self said.
Williams is joined on the front line by fellow MAC first-teamer Jerome Tillman, a 6-6, 235-pound junior who scorched Maryland for 20 points off 8-of-14 shooting.
For the season, Tillman averages a healthy 15.0 points and 7.9 boards.
"Jerome brings it every day. That intensity ... that energy we can feed off of," Williams said. "He helps me down low so don't have to do as much. He is just a great player. I'm glad he's on our team."
Bubba Walther, a 6-5 senior from Cincinnati, contributes 14.0 points per contest.
"Tillman can shoot threes," Self said of the forward who has made of six of 13. "Their 2 guard (Walther) is as good a passer as we'll play all year, who can also shoot. This is a good team that will challenge for their conference crown."
The Bobcats, who average 76.6 points a game, have a fourth double-digit scorer in 6-6 junior Justin Orr, who contributes 11.1 points a game.
"Ohio likes to play fast, changes defenses. Ohio is good," Self declared.
Ohio has lost to Holy Cross and Temple by two points apiece. The Bobcats have defeated New Mexico State, Cornell, St. Francis, St. Bonaventure, Delaware and Maryland.
¢
Melting Maryland: Williams hit six of seven shots against Maryland, a team he once hoped to play for.
"I loved Maryland, and I hated Duke," he said. "I had been looking forward to this game my entire career. I have been telling coach (Tim) O'Shea, 'Schedule Maryland, I want to play Maryland.' I grew up watching Maryland. That was my team, besides Ohio, of course."
¢
Walther enthused: Walther on playing KU: "I was getting taped before the game (home win over Delaware), and we were watching TV, and I heard, 'No. 3 Kansas,' and I thought, 'Wow, a week from today, that's us playing them.' Not too many times in your life can you say you played a top-five team and a team with all the tradition that Kansas has."
¢
Facts: Ohio University is located in Athens, Ohio. It has an enrollment of 28,442. Nickname is Bobcats.
¢
Christmas colors?: Don't be shocked if KU wears its red uniforms today.
"Knowing Danny (Manning, assistant coach), he'll want to wear red in Kansas City," Self said. "Ohio is green. If we wear red ... it's Christmas."
¢
Anything can happen: Self doesn't know what to expect from his team today, considering the Jayhawks have been buried in books all week for finals.
"Even though we haven't played this week, it hasn't been all practice with finals going on," he said. "We haven't gotten a lot better this week just because we haven't had a chance to practice and put the time in if we had no finals going on."
Copyright 2018 The Lawrence Journal-World. All rights reserved. This material may not be published, broadcast, rewritten or redistributed. We strive to uphold our values for every story published.