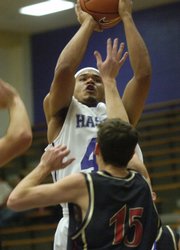 Sitting at the end of the bench on a college basketball team often involves counting down the clock, waiting for precious playing time at the end of a game. For the reserves of Haskell Indian Nations University's men's basketball team, playing time came 10 minutes into Thursday's 116-51 victory over Calvary Bible College at Coffin Sports Complex.
A decisive 27-5 Indians run in the first half allowed coach Ted Juneau to tap into his 11-man bench. And all those involved took full advantage of their opportunity.
"You got to be ready," freshman Daelan High Wolf said. "You got to go with the offense and make plays when you get the chance."
High Wolf led the Indians with 16 points in 10 minutes, while fellow reserve Jermaine Chee scored 10 of his 11 points in the first half. Haskell built a 61-26 halftime lead as every man on its roster saw first-half playing time, and all but two scored.
The response from Haskell's reserves was just the thing Juneau had hoped for after some inconsistent performances.
"I was really pleased with the way they took advantage of the opportunity," Juneau said. "Some of them got four or five minutes at a stretch. What I wanted them to do was go out and execute and not make quick shots, and I think they did a good job of that."
Juneau told his squad prior to the game that they would likely have a huge advantage against the thin, seven-man Calvary roster. But he added that in the event the Indians got out to a big lead, there was one thing all of them must remember.
"Coach always told us to respect the team and respect the game," sophomore Jeffrey Berridge, who scored eight points in 16 minutes, said. "We got to take advantage of the opportunity to show coach we can play. Don't go out there and start clowning around and putting up bad shots."
Every member of Haskell's roster scored in a game where its starters all saw less than 18 minutes.
The Indians (5-5) head to Arizona today for three games over the next six days.
Haskell 116, Calvary Bible College 51
Calvary - James Myer 16, Michael Busenitz 9, Tony Pearce 8, Pete Zobrist 8, Anthony Miller 6, Chris Miller 2, Michael Miller 2.
Haskell - Daelan High Wolf 16, Ronald Cunningham 12, Jermaine Chee 11, Ryan Brown 10, Dominic Clichee 10, Terrance Little Thunder 8, Jeffrey Berridge 8, Ben Carrywater 6, Vince Baccus 5, Collins Woody 5, Kevin Begay 5, Paul Atkinson 5, Chad Kaler 5, Vince Chavez 4, Corey Barker 3, Jacobe Shaw 2.
Copyright 2018 The Lawrence Journal-World. All rights reserved. This material may not be published, broadcast, rewritten or redistributed. We strive to uphold our values for every story published.