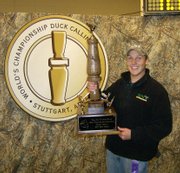 Jody Niccum might not be the most popular man on the Baker University campus.
But his popularity did take a huge jump recently.
Funny what winning a world championship will do for a guy.
"Yeah, people look at me all the time now," said Niccum, a 19-year-old Baker sophomore from Olathe. "People stop and ask me about it. I went to a concert at a fraternity, and people were talking about me, people I didn't know before. It kind of surprised me."
Over the Thanksgiving weekend in Stuttgart, Ark., Niccum won the World Duck Calling Championship. One of 70 competitors at the 72-year-old festival, Niccum became the second-youngest to win worlds and the first from Kansas.
"It was a dream come true," Niccum said. "It was a total shock. Going in, I didn't really think I was going to win. I thought it was anybody's ballgame. Everybody's really good, and anybody can win on a given night. But I blew real clean and got five judges who liked me."
At Worlds, callers simulate conditions in a duck blind.
All routines are similar - a hailing call, followed by a greeting call, feeding calls, a comeback call in 90 seconds - but competitors inject their own style in their routines.
Niccum said he worked with Butch Richenback, owner of Rich-N-Tone duck calls, to develop a routine that stood out.
And while Niccum said ducks can be forgiving of a mistake, Worlds judges are not.
This year's trip was Niccum's third to Worlds. He finished 15th and 13th the previous two trips.
"I was a little better prepared this year," he said. "I practiced harder."
That practice lasted as long as two hours a day leading up to the world championships.
Niccum said he practiced mostly in his car and at his mother's house.
"I practiced a lot," Niccum said. "I spent a lot of time practicing calls, just sitting there."
Nov. 24, it paid off.
Though Niccum actually led start to finish at the event, he said his first-round performance was unimpressive.
Regardless, he had a field-best 231 points in Round One for a lead he'd never relinquish. He added 260 points in round two and 289 in the third round for a 491-point total, holding off runner-up John David Stanley III by 3 points.
The event was shown live on ESPNOutdoors.com and was covered by the Outdoors Channel and Discovery Channel.
"Honestly, I was happy when I was in the top 10," Niccum said. "The closer they got to declaring who was No. 1 : I was still standing."
Niccum said he has been competing since he was 13. His brother, Cory, who placed 18th at Worlds, got his brother interested.
"He got into it, and I followed him around," Jody Niccum said. "He's the one who got me started. When I started doing it : I don't know, I just like the people who do it a lot. I have friends all over the country because of this."
Niccum won a nifty prize package worth in excess of $15,000. He earned $8,000 cash from the Stuttgart Chamber of Commerce, a gold ring, a duck boat, shotgun, shells and decoys, a watch, duck prints, duck and goose calls and other merchandise.
"Probably the trophy and ring are the best," Niccum said. "I've also done a lot of newspaper interviews and TV, and I've gotten some pro-staff offers and offers to go hunting with other people. But the best thing of all is to say you're the world champion. Nobody can take that away from me."
Niccum also earned an automatic berth to the 2008 Worlds so he can defend his title without having to qualify as he did this year by winning a sanctioned qualifier.
"Being the champion helps keep me motivated, because guys will be looking at me," Niccum said. "After next year, I don't know. If I don't win another Worlds by 2010, I might blow in the Champion of Champion events. Those are held only every five years, and you have to be a champion to compete. If you win, you retire yourself. That'd be OK with me. Then I might pick up a goose call : "
Copyright 2018 The Lawrence Journal-World. All rights reserved. This material may not be published, broadcast, rewritten or redistributed. We strive to uphold our values for every story published.