Photo Gallery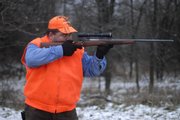 Deer Hunting
Mary Garzillo, 15, has patience running through her veins.
The Lawrence High School sophomore learned it from her father, Charlie, and the time they've spent in their tree stand southwest of Lawrence just waiting to take a perfect shot at a deer.
She got the chance on the evening of Dec. 4. After more than two hours in silence, Mary spotted a four-point buck 240 yards away and aimed her .270-caliber Winchester rifle.
"I was really excited. My heart was pumping," she said. "While you're sitting there waiting, aiming, it just sort of freaks you out."
Apparently not enough to rattle her steady hand and aim. She shot the buck in the neck. It was her first deer with antlers; she shot a doe last year.
"She's a phenomenal shot. We're real proud of her," her father said.
Hunting has become a tradition for the family, who live south of Lawrence near Pleasant Grove. The Kansas regular firearm deer-hunting season ended Sunday, and although some hunters don't expect overall harvest numbers to be impressive, success stories of family tradition do emerge.
"It's the only thing me and Dad really get to do together," Mary said.
Charlie Garzillo learned from his grandfather, an avid outdoorsman. He now takes the opportunity to pass down his knowledge of the outdoors to his family and also his neighbor Sam Hird, 16.
He's taught them how to clean the animal, and their meat is also processed. Mary, who has an interest in veterinary medicine, took most of the organs to school, and her animal science class dissected them.
The white-tail, antlerless extended season for firearms will be Jan. 1 through 6, and state officials won't have harvest numbers until weeks later. They do expect between 70,000 to 80,000 deer to be harvested, said Lloyd Fox, the Kansas Department of Wildlife and Parks big game program coordinator.
"From everything I've heard, it was a pretty good season," said Bob Mathews, a department spokesman.
In Douglas County, some hunters reported success, like the Garzillo family, but others didn't see as many larger bucks as they would have liked.
Doug Woods didn't score until the end of the season, as he shot a 10-point buck Saturday night. But Woods and his son Wyatt, 14, an eighth-grader at South Junior High School, were able to spend time together for some "bonding time."
"It wasn't a productive season, but it's always an enjoyable season," said Woods, a Douglas County Sheriff's lieutenant.
Copyright 2018 The Lawrence Journal-World. All rights reserved. This material may not be published, broadcast, rewritten or redistributed. We strive to uphold our values for every story published.