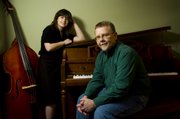 Performances
South Singers, South Junior High School's choir, will perform at 11 a.m. Thursday at First Presbyterian Church, 2415 Clinton Parkway. There will be a luncheon after the performance, and guests are encouraged to bring a dessert.
The choir will perform along with the school's band and orchestra at 7 p.m. Monday at the school, 2734 La.
Both events are open to the public.
Lawrence resident Jody Johnson wrote a song, "Winter's Promise," about his daughter, Emily, and other junior high school students.
"I feel like, a lot of times, junior high kids aren't listened to. We always think they are in transition when actually, I think, they provide quite a bit of hope, and so the song talks about that and uses the image of winter to talk about that," Johnson said.
Johnson, an associate director at Kansas University's Advising Center, began writing the song on a wintry day last January. It will make its premiere Thursday during the South Singers Winter Tour.
The group of 71 eighth- and ninth-grade students from South Junior High School, which includes Emily, will perform at four elementary schools and First Presbyterian Church.
It will be the first time Johnson will hear his four-part choral piece performed in public - and it will be quite an accomplishment for a "self-taught" musician. He plays the piano, although he only had lessons until seventh grade. He also has written children's holiday programs for First Presbyterian Church.
But, he said, those projects pale in comparison to "Winter's Promise."
"It ended up being a bigger project than I expected," he said. "I tease my wife that I should get a degree for this."
And maybe he should.
"Winter's Promise" has received rave reviews from Mark Robinson, South's choral director, and Laurel Krider, the school's pianist.
"His piece will be wonderful," Krider said. "It's got a wonderful story that it tells."
And Emily, a ninth-grader, couldn't be happier that her dad listened to her.
"What was cool is that he was inspired a lot by me and my generation because I am always talking about, 'Dad, nobody listens to me, nobody takes me seriously because I am 15 years old,'" she said.
Emily said she gets frustrated when she wants to share her ideas about issues such as politics and global warming, but everyone assumes they are her parents' viewpoints. She said she tunes into the presidential debates and is much more liberal than her parents.
"I have good points and I have things that I want to say," she said.
And Robinson said that is why he is glad the students get to perform at the church, where they will eat lunch and mingle with the audience after singing.
"I love it because I just feel this interaction between the generations is so valuable at both ends," he said. "The kids get this wonderful sense of being grandparented, they get this wonderful feedback from the things that they do and the seniors get to see that there are ... good young people still out here in the world who love life and are not out to cause trouble."
Copyright 2018 The Lawrence Journal-World. All rights reserved. This material may not be published, broadcast, rewritten or redistributed. We strive to uphold our values for every story published.