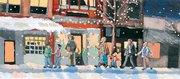 Holiday music events, gift ideas, activities for kids, food, decor & much more!
The Christmas carol might say deck the halls. But Thursday evening, runners and walkers will be decking and trekking the streets of downtown Lawrence.
For the past five years, participants have donned Santa hats, bells and - most impressive - flashing Christmas lights for the annual Jingle Bell Run/Walk.
This year, the fundraiser will collect money for Ballard Community Center and the Boys and Girls Club. The event starts at 6:30 p.m. Thursday. Runners and walkers should gather in the parking lot behind Kizer-Cummings Jewelers, 833 Mass.
Staying on sidewalks, the group will follow a loop along Massachusetts Street that extends from Sixth Street to South Park. The route is about a mile and half long.
Participants can donate to the charity before or after the run. Those who won't be running, but wish to give, can drop off donations at Kizer-Cummings or hand them off to passing runners downtown.
In the past, the Jingle Bell Run has drawn about 100 runners, said Beverly Gardner, who helps organize the event with her husband, Don "Red Dog" Gardner.
"The fun part about it is people come out of the stores to watch you," Beverly Gardner said.
The event draws many who attend Red Dog's Dog Days community workout program. But it is open to anyone.
After the run, Kizer-Cummings will provide apple cider and eggnog and then the group will gather at the Eldridge Hotel for further celebration.
Children and strollers are welcome. Holiday decorations and attire are strongly encouraged.
Here's one tip for participants wishing to add some flare to their run or walk: battery-powered lights do the trick. A battery pack can easily go in a pocket, Gardner said.
Copyright 2018 The Lawrence Journal-World. All rights reserved. This material may not be published, broadcast, rewritten or redistributed. We strive to uphold our values for every story published.