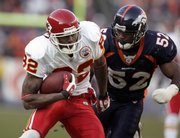 Kansas City, Mo. — Facing what could be his worst season in 19 years as president and general manager of the Kansas City Chiefs, Carl Peterson says neither he nor his head coach is in danger of losing his job.
That will come as a disappointment to many angry fans and critics. The Chiefs (4-9) have lost six in a row and looked horrible last weekend in a 41-7 loss to Denver. They haven't won a playoff game since the 1993 season and appear to be facing a huge rebuilding job, with massive needs on the offensive line and defensive secondary especially.
"I think I understand the fans' impatience and disappointment," said Peterson, who has ruled the Chiefs since 1989 and has two years left on a five-year contract.
"I feel the same way. We're having a difficult season. We've had a lot of successful seasons, too, in my time here."
The Chiefs (4-9) are coming off perhaps their worst on-the-field performance since 1988. They averaged less than one yard per carry against Denver, which has one of the league's worst run defenses.
Coach Herm Edwards, who is in his second season, said in a testy exchange with reporters during his Tuesday news conference that everyone should blame him and no one else for what's happened.
"In our society, we all want to point the finger, to blame somebody," he said. "Blame me. OK? If you want to blame somebody, blame me, the head coach. You don't have to blame any more players. You don't have to blame the people in the organization."
But Peterson, swarmed by reporters at the end of the news conference, invited everyone to hold him accountable.
"And that's where they should put the blame because, at the end of the day, the buck stops here," Peterson said.
"I certainly want to say that Herm is doing an excellent job. He's working very hard at it. We were in the playoffs last year. He's been in the playoffs four of the six years he's been a head football coach. I think he's the right guy. We don't have any plans to make any changes."
Peterson also said he would be willing to step aside if he thought that would be best for the organization.
"I evaluate myself every year. But I look at the whole body of work. And again - the ultimate responsibility is mine, but it's not just me. There are a lot of people who work very hard in this organization. And over the years we've had a lot of successes.
"At the end of the year, like we always do, we'll sit down and evaluate where we are on the football side of it, the business side of it, all the aspects. Then we make our plans for 2008. Right now we've got three games left, and we want to win all three."
A player purge is certain. Peterson also hinted there could be other changes in the organizational structure.
"We're going to evaluate it all. There'll probably be some changes. There always is. This is the National Football League. Nothing stays static."
So what grade does Peterson think he deserves?
"Right now not a good grade because we haven't had a good season," he said. "But we've accomplished some other goals here that some people see, others don't. But my responsibility is to this franchise and to the ownership of this franchise."
Copyright 2018 The Associated Press. All rights reserved. This material may not be published, broadcast, rewritten or redistributed. We strive to uphold our values for every story published.