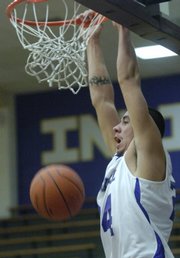 Name stemmed from outlaw tale
Haskell Indian Nations University basketball star Ben Carrywater said he thinks he was a sophomore in high school when he asked his mother to tell him the story of how the family got its last name.
"Ever heard of the outlaw Kid Curry?" Carrywater asked. "Moses Carrywater was my great grandpa. Moses Carrywater's mom used to carry water up to Kid Curry when he was hiding out and that's how we got the name Carrywater."
Kid Curry, whose real name was Harvey Logan, was a late 19th-century quick-trigger outlaw who ran with Butch Cassidy and the Sundance Kid's notorious Wild Bunch.
At the time of a summer telephone conversation between one man on the Fort Belknap Indian Reservation in Montana and another in Lawrence, Haskell Indian Nations University didn't have a men's basketball coach, much less a star player. That conversation planted the seed for the school having both.
Ted Juneau, now the coach at Haskell, and Ben Carrywater, the star player, talked for the first time via telephone when Carrywater didn't think he would be returning to Haskell.
Juneau looked back on that phone call from a chair in the Coffin Complex, the on-campus basketball gymnasium that has the Kemper Arena floor from the 1988 Final Four in which Juneau's best former pupil, Danny Manning, starred for Kansas.
"I knew he was the key to us being competitive," Juneau said of Carrywater. "I heard he wasn't going to come back. I got a call from him one day. I said, 'Ben, I'm glad you called.' He said, 'Who's going to be the coach?' I said, 'I'm not sure yet, Ben, but I might be.' The phone went dead. He didn't call me for another two weeks. He claims his cell phone went dead. I don't know what the true story is."
It's too early to declare the story has a happy ending, but the coach-player relationship born with that truncated phone call is off to a good start.
"I was going to stay back home with my girlfriend and baby," Carrywater said. "Coach told me it would be good for me to come down here, and he was right. I like playing college ball, and I wasn't going to play back home. I'm trying to get us to the national tournament."
That would be the NAIA Division II tournament. Carrywater played for Haskell first semester freshman year, returned home, and came back to play again second semester sophomore year. He said that after talking a couple of times to Juneau, the former Lawrence High coach who left that job 20 years ago, playing for him sounded like something he wanted to do.
"He was telling me about his credentials," Carrywater said. "I didn't know him, but I wasn't one to judge him and say he was lying. He was talking about coaching Danny Manning. He said if you don't believe me, I'll give you his number and you can call him. I didn't ask for that. He was right, though. I went to the class (Juneau) teaches at KU, and after class he took me up to meet Danny Manning in his office. That was interesting. Nice guy."
Carrywater, a versatile 6-foot-3 "relentless rebounder," according to Juneau, averages 19.4 points and 12.1 rebounds per game for the Fightin' Indians. He has hit 63.2 percent of his field-goal attempts and 41 percent of his 3-pointers, plus Carrywater contributes 2.7 assists and 2.5 steals per game. He was named conference player of the week recently.
"He's a really good teacher, a really good coach, a really good guy," Carrywater said of Juneau. "He knows a lot about the game. Before he came here, we always griped a lot at each other and had problems on the team. We don't have those problems this year. Coach keeps us together as a team."
Hired for a year to oversee the Haskell athletic department, Juneau said he initially had no intentions of coaching the basketball team.
"Ben's one of the reasons I decided to do this," Juneau said. "I could tell they needed some stability and someone to come in here and help them through this season. I promised him I'd do it if he came back, and that's kind of the deal we struck. Last year he was more of a role player. Now we run everything through him, and he's really responded to that. He's a great leader. He doesn't talk a lot, but he does it by example. I've had officials come to me after the game and just rave about his demeanor on the court. You can't ask for anything more."
Carrywater went home for Thanksgiving. And he came back. That's not always a given at Haskell.
"We've got 18 kids, and some of them play for the JV," Juneau said. "All 18 kids are here. And that's the important thing. We need to get some stability and not have the roster change over every semester. We've had some kids talk about coming here to play next semester, but we'll probably red-shirt them. I do think we owe it to the kids here to let them get through a full season."
Juneau said that when he first left coaching to concentrate on being an administrator, he didn't miss it. A few years ago, he joined Manning in coaching Manning's son, Evan, in AAU youth basketball.
"When I did that, I realized how much I missed it, and that made me realize I might want to do it again," Juneau said. "I guarantee when I came out here I had no thoughts I would be the basketball coach. I came out here because I wanted to stay in the athletic arena. I thought the administrative skills and experiences I've had would be helpful out here. I was really looking forward to it. It played out that I was able to do both, and it's really been good."
Copyright 2017 The Lawrence Journal-World. All rights reserved. This material may not be published, broadcast, rewritten or redistributed. We strive to uphold our values for every story published.