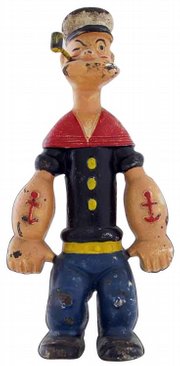 Current prices
Current prices are recorded from antiques shows, flea markets, sales and auctions throughout the United States. Prices vary in different locations because of local economic conditions.
¢ Bill Clinton's first governor-campaign postcard, 1978, "Clinton for Arkansas," photo of Clinton, unused, 4-by-6 inches, $95.
¢ Ivory Snow box, Marilyn Chambers on front, 1970s, 8 1/2-by-6 inches, $110.
¢ New York World's Fair ice-water pitcher, 1939, photo of Trylon and Perisphere, white, built-in retainer, marked "porcelain trademark, vitreous, hand decorated," 4-by-7 inches, $345.
¢ Silhouette, profile of man and woman, hollow cut white paper over black fabric, Henry Williams, 1787-1830, 4-by-3 inches, pair, $495.
¢ Queen Anne-style child-size wing chair, Boston type, mahogany legs and stretchers, cream-color upholstery, 1890s, 31-by-19-by-16 inches, $515.
¢ Carnival glass sauce bowl, Water Lily pattern, ruffled edge, footed, opalescent lime green, $545.
¢ Pennsylvania needlework, Peaceable Kingdom, lion with lambs under tree surrounded by animals and flowers, two angels on border, "Jane Seaton Work, 1846," 22-by-21 inches, $1,000.
Popeye, the comic-strip strong man, claimed that his strength came from eating spinach, which he ate straight from the can. Children were told that the iron in the spinach would make them strong. Today we know that spinach is a good source of not only iron, but also antioxidants. In 1929, when Popeye was introduced in a comic strip called "Thimble Theatre," no one even thought about antioxidants. They became a favored diet subject about 20 years ago. Popeye, his girlfriend Olive Oyl, his hamburger-eating friend Wimpy, the villain Bluto and Eugene the Jeep, an animal friend who ate only orchids and could tell the future, are all still remembered. There have been cartoons, a TV series and a movie starring Popeye. The daily comic strip ended in 1992, but a Sunday strip is still running. Popeye collectibles bring high prices today, and many were made in the past 78 years. Jointed wooden figures with composition heads can be worth $500 to $1,000. Lithographed tin toys that move can sell for $1,000 up to the record-high $28,000 for a rowboat. Recently, a cast-iron Popeye doorstop sold for $6,000.
Q: Were fairings made only in England? What would you call a similar box or trinket that was made in the United States?
Fairings are small porcelain figurines or containers, usually less than 5 inches high, that were won at county fairs or sold as souvenirs. They were most popular from 1850 to 1900. Many were made in Germany; others originated in France, England and other parts of Europe. A few late examples were made in the United States. The most common are small boxes shaped like a dresser or a bed or a bench that opened. Almost all fairings included people, usually children, as part of the design. Many were ceramic jokes with the tag line written into the side. There is a famous series called "The 12 months of marriage," with a bed and a married couple going from romance to the birth of a baby. We recently bought one fairing that showed the famous conjoined twins Chang and Eng, and another picturing a woman behind a counter selling oysters. Hundreds of different designs were made. Some fairings were more than boxes or figurines. Match holders can be recognized because there is always a rough striking surface somewhere on the fairing. Toothpick holders have rectangular sections for toothpicks. Watch holders have a round opening for a pocket watch. But most were used to hold trinkets, usually jewelry.
Q: I have a ceramic bulldog that looks as if it escaped from a cubist painting. The squared-off dog has a hole in the back showing that it's a vase or planter. On the front it reads "Mack." I am told it was made by those who make Mack trucks.
A: Years ago, we were invited to an antiques show in Allentown, Pa., where Mack Trucks Inc. is headquartered. We stayed in the "Mack Truck suite" at a local hotel. It was filled with Mack Truck advertising pieces, many that were given to truck dealers and other customers at Christmas. It also had a Mack shoe-shining machine and Mack ashtrays, lamps, towels, pillows and all sorts of dishes. Each pictured the Mack Truck bulldog and most had the word "Mack" as part of the design. These Mack collectibles were made from the 1940s to the 1970s and perhaps even later. Advertising and automotive collectors still search for them.
Tip
To clean a gilt picture frame, first boil three onions in 2 cups of water, then dampen a soft cloth with the cooled water and rub the frame.
Copyright 2018 The Lawrence Journal-World. All rights reserved. This material may not be published, broadcast, rewritten or redistributed. We strive to uphold our values for every story published.