On the street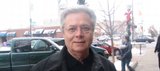 The Salvation Army, and this year I'm going to donate to the Solace House. They help children who have had traumatic experiences work through them.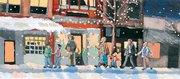 Holiday music events, gift ideas, activities for kids, food, decor & much more!
Whether it be time, money or supplies, Lawrence organizations have "wish lists" this holiday season.
Here's how to help:
¢ The East Central Kansas Economic Opportunity Corp., 2518 Ridge Court, has 12 families remaining to be adopted out of the 77 who applied. The deadline to adopt is Friday. To adopt a family, call 831-3357.
¢ Women's Transitional Care Services has 22 families waiting to be adopted.
"Typically these women are experiencing poverty and many of them just within the last year have been starting a whole new life for themselves," said Eva Vlach, volunteer program director.
To adopt a family, call 865-3956. There is no deadline.
Women's Transitional Care Services also is in need of items such as feminine hygiene products, toiletries, diapers, cleaning supplies, gas cards and cold medicine.
¢ Douglas County Senior Services, 745 Vt., has an Adopt-a-Grandparent program and still needs 10 to 15 adopters. It can be reached at 842-0543.
¢ Loring Henderson, executive director of the Lawrence Community Shelter, 214 W. 10th St., said the shelter needs breakfast items such as cereal and coffee and cold weather clothing items. To help, call 832-8864.
¢ Lawrence Interdenominational Nutrition Kitchen, 221 W. 10th St., need items such as coffee, sugar, cereal, canned fruit or other nonperishable goods. Donations can be made at LINK between 11:30 a.m. and 3:30 p.m. Tuesday through Saturday or by calling 842-1890.
¢ The 14th annual Lawrence Community Christmas Dinner is in need of 50 11- to 13-pound turkeys, 40 hams and pies. To make a donation, call Brower Burchill, coordinator, at 843-9199 between 9 a.m. and 5 p.m. The dinner will be served from 11 a.m. to 2 p.m. Dec. 25 at First United Methodist Church, 946 Vt., and it is open to the public. It generally serves about 700 people.
¢ Roger Hill Volunteer Center has a vast amount of volunteer opportunities. It can be reached at 865-5030.
Copyright 2018 The Lawrence Journal-World. All rights reserved. This material may not be published, broadcast, rewritten or redistributed. We strive to uphold our values for every story published.