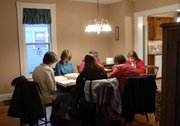 Moms in Touch International
Lori Lange believes there are countless reasons to pray for children. "They have their whole lives ahead of them," Lange says. "There are lots of things that will happen, lots of decisions they'll make. We pray that God will be with them and that our children will be believers."
Lange is involved with Moms in Touch International, a global, small-group ministry that prays for specific children attending specific schools.
According to the organization's Web site, there are 11 small groups praying for children in 11 Lawrence schools. But Bev Romans, the group's state coordinator, says the ultimate goal is to expand.
"We like to have a group for every school - that's our vision, to have a Moms in Touch group praying for every school in the world," says Romans, who lives in Salina.
Prayer meeting
Here's how the process works.
A woman with a child in a particular school establishes a Moms in Touch group for that school.
Then, once a week, mothers get together at a house or other location for a solid hour of prayer.
The prayer meetings involve four portions:
¢ Praise, when members focus on a particular character of God, such as his love or steadfastness.
¢ Confession, a silent prayer time when members ask for repentance.
¢ Thanksgiving, when members talk about specific things God has done in the lives of their children, or at school.
¢ Intercession, when members ask for help for their children, teachers, administrators and other students.
Prayer topics
"We really think God answers specific prayers specifically," Lange says.
When a child reaches junior high or high school, she says, the prayers are different from the younger grades.
Prayers might be for a particular test, a school situation or for any potential drug deals to be stopped near the school.
"It's to stay on the right path, and not to yield to temptation," she says. "And with the specific situations we know about, like school shootings, we often pray for protection, and that if someone is talking about suicidal thoughts, that ears will be opened to that."
Sometimes, Moms in Touch groups simply go through a school's yearbook, praying for each child by name.
"That might be the only time these kids are prayed for," Lange says.
For Lange, the group offers assurance that she'll spend the time praying for schools. She's been involved since 1990, when her children were in elementary school. Now, she leads a group for mothers whose children are in college or in the work force.
"I think for myself it's accountability - actually spending an hour praying is hard to do," she says. "And the exponentiality of it - combining prayers with others increases the power of it."
'Best gift'
Barbara Stephens, who has been in Lange's Moms in Touch group for more than a decade, says she likes knowing mothers around the world are praying at the same time she is.
"We end up praying for the teachers, and for the safety and protection of the students," Stephens says. "Especially in this day and age, that seems even more important."
Because the prayers are so specific, everything said in the groups is confidential.
"Everything we pray is kept within the group," Stephens says. "We never talk about it outside the group or with anybody else."
Stephens, whose youngest child is preparing to graduate from Kansas University, says she always comes out of the prayer hour refreshed.
But, she says, it's not about her.
"It's the best gift I can give my kids," she says.
Copyright 2018 The Lawrence Journal-World. All rights reserved. This material may not be published, broadcast, rewritten or redistributed. We strive to uphold our values for every story published.