Photo Gallery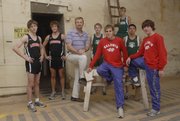 All-Area Cross Country
Two-time Class 4A state champion. Four-time regional champion. Three-time league champion.
Baldwin High senior Heather Garcia's cross country resume is as impressive as it gets.
Not only that, but she went out on top, leading BHS to a state title at Wamego in October.
Her coach, Mike Spielman, spotted her talent when she was a junior high track athlete and encouraged her to give cross country a shot when she was a freshman.
"It was the first time I even thought about running cross country," Garcia recalled.
Spielman is glad she took his advice. His team, in turn, got a tremendous athlete and leader for four years.
"She's very competitive. She's got a lot of great athletic ability - not necessarily (just) running - but she's a pretty good athlete," said Spielman, adding that Garcia's outgoing personality helps her, as well. "She's a great leader for us because she's really vocal and would get the kids pumped up."
Garcia, who always has a smile on her face when she's not dominating on the cross country trails, helped rally the troops when her team hit an unexpected bump in the road on its way to a 4A championship this year.
"We went into our last three races knowing we had to give it our all, and when we lost league by a point, we buckled down," Garcia said. "We were so determined this year to win that last state meet."
Spielman said Garcia made his job easier, citing her performance - she was victorious at eight meets this year - as a critical component to the team's success.
"It's so nice in cross country when you're taking five people to score and you know you've got a (first-place runner) out of one of them, then you're kind of running four versus five," he said. "Knowing you'd have that low score every meet was just a great comfort."
The outgoing Garcia, who still competes in track and field events for BHS and has won state championships there as well, said running cross country beats lap-running on the track.
"There's hills. It's not just (running in) circles," she said. "You get scenery."
And if you're Garcia, you get accolades and championships, too.
All-Area first team
Girls
Calleigh Durr - Baldwin
A junior runner for the talented Bulldogs, Durr placed third at regionals and followed that with an 11th-place outing at the Class 4A state championship to help Baldwin capture the state title.
Lacey Erickson - De Soto
Finishing just ahead of Durr at the 4A state championship, Erickson took 10th to become the sixth girl in De Soto's history to finish in the top 10 at state. As a freshman, she medaled in eight of nine races.
Hayley Francis - Free State
Just a freshman, Francis medaled at all nine meets for the Firebirds this year. Saving her best time - 15:34 - for last, she finished 11th at the 6A state meet at Rim Rock Farm.
Heather Garcia - Baldwin
The leader of the 4A champs, Garcia, a senior, won eight meets including her second straight individual state title.
Kyra Kilwein - Free State
A junior who led the Firebirds throughout the season, Kilwein won the Haskell Invitational, had a season-best time of 15:07 at the Baldwin Invite and placed eighth at state.
Corinna Papps - Baldwin
One of three All-Area runners for the 4A champs, Papps finished eighth at state, fifth at regionals and fifth at league.
Kelly Renfro - Lawrence
A senior for the Lions, Renfro routinely led her team. The four-year LHS runner finished 14th at the 6A state meet, eighth at regionals and took second at two races this year.
Honorable Mention:
Emily Ballock and Liz Hoese, Eudora; Haley Harrington, Free State; Alex Hauk and Andie Jeannin, Tonganoxie; Katie Hirsch and Maggie Kuhlman, Perry-Lecompton; Hannah Jokisch and Carly Stanley, De Soto; Erica Layton, Wellsville; Jennifer Taylor and Kristina Taylor, Lawrence.
Boys
Cristian Dozier - De Soto
In his first year with the Wildcats, Dozier continually improved during his sophomore campaign and capped it off with a ninth-place finish at the 4A state championships.
Dylan Hedges - Lawrence
As a senior leader, Hedges won the Manhattan Invitational and the Shawnee Heights Invitational. He finished eighth at the 6A state championships and ninth at the regional meet.
Aaron Karlin - Baldwin
As a senior, Karlin won the Sabetha Invite. He finished sixth at the 4A state race to help the Bulldogs take second place. Karlin took third at regionals and fifth at league.
Lucas Slater - De Soto
A senior, Slater finished his De Soto career by medaling at the 4A state championships with a 12th-place finish. He and Dozier helped propel the team to a third-place finish at state.
Logan Sloan - Free State
The Firebirds' top boys runner medaled in eight of nine meets as a freshman. He was the second freshman to cross the finish line at state and 13th overall at the 6A finals.
Roy Wedge - Lawrence
As an up-and-coming sophomore, Wedge set a personal-best time of 16:38.4 and took seventh place at the 6A state meet. He bettered his times from 2006 at every race in '07.
Tony Weiss - Baldwin
Though he was only a freshman, Weiss won two meets and paced the Bulldogs with a fourth-place finish at state and took first place at regionals.
Honorable Mention:
Matt Brock, Tonganoxie; Ivan Espinosa and Juan Ramirez, Eudora; Colin Jokisch, De Soto; Garrett Jones and Josh Payne, Perry-Lecompton; Gabe Moss, Free State; Derek Poor, Wellsville; Ben Wilson, Lawrence; Connor Wright, Baldwin.
Copyright 2018 The Lawrence Journal-World. All rights reserved. This material may not be published, broadcast, rewritten or redistributed. We strive to uphold our values for every story published.