On the street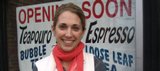 I like fudge; plain old fudge without any nuts. The holidays are the only time I get to eat it.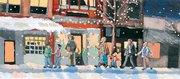 Holiday music events, gift ideas, activities for kids, food, decor & much more!
Looking for a Christmas gift for a friend or family member to use in the kitchen? There's certainly no lack of kitchen gadgets, pots, pans, utensils and appliances to choose from.
So, to help you wade through your options, we asked four Lawrence foodies what they would suggest as gifts for aspiring chefs. We asked them to especially focus on items that would make cooking easier, and things that people might commonly not think about.
Here's what they came up with:
Deb Clemente, owner, Stone Creek restaurant, 3801 W. Sixth St.
¢ Immersion blender - She suggests a heavyweight industrial blender, which is good for pureeing soups, sauces and dressings.
"It's also great for making smoothies," she says. "Very handy."
¢ Enamel cast-iron skillet - "I just personally never got the hang of seasoning a cast-iron skillet," she says, "so now I'm a fan of the pretty enameled versions, which are easy to clean and can go in the dishwasher."
Also, they're often oven-safe, for recipes that require finishing in the oven.
¢ Serving trays - "I love the lightweight colorful decorative plastic trays that don't look plastic," Clemente says. "No one could ever have too many."
¢ Decorative cocktail napkins and paper plates - "Last year, I put together a large gift bag full of colorful paper party wares for my sister," she says. "She is ever the hostess, as family and friends are welcomed at her home at every holiday, and the ones she makes up in between."
Ken Baker, owner/chef, Pachamama's Restaurant, 800 N.H.
¢ Vegetable peeler - Specifically, he's a fan of the Y-shaped Kuhn Rikon peeler, which costs about $6.
"This utensil is the best for the price," he says. "You'll know on the first stroke. Maybe the second."
¢ Paring knife - Baker says the Icel 3 1/2-inch knife is friendly on the pocketbook - under $10 - and handy in the kitchen.
"Why spend money when something this simple works better?" he says. "High carbon steel, sharp and handy."
¢ Stainless steel food mill - "Look for all-metal construction for the best whipped potatoes and soups, etc. Not to mention, if you have a baby on the way like me, this is the baby food generator. I won't make the diapers. However, I think I got a handle on food."
¢ Slow cooker - "Long and slow cooking, or one-pot dishes, are where it's at," Baker says. "They tend to be the most deeply flavored and satisfying. They are thrifty, and anything cooked in them gets better the next day or thereafter."
Nancy O'Connor, director of education and outreach, Community Mercantile, 901 Iowa
¢ Assorted wooden spoons and paddles - She likes the ones made of hard woods or bamboo.
"I have lots, and lots of favorite ones, made by different people, all with distinctive personalities," O'Connor says.
¢ Heat-resistant rubber spatulas - "In assorted sizes and fun colors," she says. "Great stocking stuffers."
¢ Pressure cooker - "Probably one of the most-used pans in my kitchen, for cooking everything from beans to beets to rutabagas. May not be the dream gift for every cook, but invaluable if you love those long-cooking foods like I mentioned."
¢ Grill pan - "Very fun for making panini sandwiches and turning grilled cheese into something a little more special."
Rick Martin, chef, Free State Brewing Co., 636 Mass.
¢ Microplane - "It's a beautiful creation. Zesting citrus is nice, but cheese takes on a new life with this thing," Martin says. "Those old bits of cheese - let them dry in the fridge, then run their remnants over this gadget for a flavor burst that I try to keep a secret."
¢ Rice cooker - "One cup rice, 2 cups water. A splash of rice vinegar and salt. Hit the button. Chop and stir-fry some vegetables, and you're in simple meal heaven," Martin says.
¢ Mortar and pestle - "Perfect for some toasted cumin or coriander seed," he says. "A quick flavor punch."
More ideas
By J.M. HIRSCH - AP Food Writer
Here are some additional gift ideas for foodie friends and family:
¢ More of the same ($40 to $100, widely available online)
Sometimes the best gift for foodies who have it all is more of the same. As in, a second bowl for their stand mixer or food processor, or another carafe for their blender.
This may not sound particularly imaginative, but for people who enjoy cooking, having a spare bowl or carafe for a frequently used appliance can be a tremendous help. It means not having to wash between batches or recipes.
The manufacturers of the appliances usually sell these items on their Web sites (including KitchenAid and Cuisinart), but they also are widely available from other online shops, including eBay.
¢ Spice flights ($20 to $50)
Restaurants everywhere offer flights of wines, cheeses, even chocolates. These fun tasting experiences let you sample different, but related varieties of food and drink.
Borrow this concept and give your favorite foodie a flight of spices. Here's how it works: purchase three or more varieties of a single herb or spice (paprika, oregano and peppercorns are good choices).
Package the spices in attractive bottles and pair them with recipes (the Internet should provide plenty) that highlight the nuances of each variety.
To get enough variety, buy from a specialty spice shop, of which plenty are available online. Two outstanding sources are Penzeys Spices (www.penzeys.com) and Kalustyan's (www.kalustyans.com).
¢ Cookbooks ("The Oxford Companion to Italian Food" for $35 and "1080 Recipes" for $39.95)
Give the gift of culinary knowledge by way of two recent books that offer exhaustive treatments of Italian and Spanish cuisines. For anyone who takes these styles of cooking seriously, these books are essential.
First is Gillian Riley's "The Oxford Companion to Italian Food," a fascinating encyclopedia of the Italian food world. Though it includes no recipes, it is a wonderful resource for understanding Italian recipes and how to cook them.
Second is Simone and Ines Ortega's "1080 Recipes," Spain's answer to the "Joy of Cooking." It's been hugely popular in Spain for 30 years, but the book by the mother-daughter team has only just now been published in the U.S.
¢ Microsoft's OneNote ($99, though there are plenty of deals online)
Finally, there is a good solution for managing all those recipes torn out of magazines and newspapers or printed out from the Web. That's because without knowing it, Microsoft has created the home cook's dream software.
The software is called OneNote, which is packaged with some versions of Microsoft's Office suite, but also can be purchased on its own. Intended for students, the software allows the user to create countless digital "notebooks."
These notebooks allow users to paste images (from the Web or scanned) and type text anywhere. And the best part is that everything, even scanned text, is searchable.
Why does this matter to home cooks? Because when you tear recipes out of magazines and organize them in file folders or on note cards, the only way to search them is to flip through and read every page.
With OneNote, users can scan those recipes in, organize them as desired, then search them. For example, ask the software to search for "paprika" and it will list every recipe that uses the ingredient.
A scanner is essential for making the most of this software. Many smaller ones can be purchased for under $100.
Here are some more ideas for foodie gifts from the Associated Press.
Granite or marble scraps ($10 to $100, depending on size)
Foodies love the look and feel of stone, but granite and marble counters can cost a fortune. So why not get them a stone serving platter or pastry board (perfect for rolling out tricky pastry doughs that need to be kept cool).
This is easier and cheaper than you would imagine. Find a stone shop in your area that crafts countertops. Mistakes happen, and pieces of counter that chip during cutting or have other flaws usually are tossed on a scrap heap.
If you're lucky, the company will give you a piece for free. Others let people pick through their scrap piles and purchase by weight or size. Be sure to bring heavy gloves; you'll encounter sharp edges when picking through the pile.
Garlic Card (Available for $6 from Amazon.com, information at www.garliccard.com)
This stocking stuffer offers a a whole new way to work with garlic. The Garlic Card is the shape and size of a credit card, but covered with 135 tiny ridges and bumps. Rubbing a peeled clove over the bumps quickly reduces it to pulp.
The result is a garlic puree similar to what you get with a garlic press, but the Garlic Card takes up much less drawer space and is easier to clean (just rinse under water). And unlike a metal grater, the card won't cut your fingers.
Copyright 2018 The Lawrence Journal-World. All rights reserved. This material may not be published, broadcast, rewritten or redistributed. We strive to uphold our values for every story published.