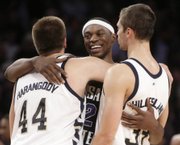 New York — The big sophomore stole the attention from the big-time freshman.
Luke Harangody had 19 points and a career-high 14 rebounds to lead Notre Dame to its fourth straight victory, 68-59 over Kansas State on Tuesday night in the Jimmy V Classic at Madison Square Garden.
Michael Beasley, the Kansas State freshman who leads the nation in scoring and rebounding, had a big first half with 17 points but managed just two in the second against Notre Dame's collapsing defense.
"We did a better job on Beasley in the second half," Harangody said. "It was a very physical game. I was a little surprised. We got used to it and held our own."
Kyle McAlarney had 18 points, including the final nine for the Fighting Irish (6-2) over the last 61â2 minutes. The Wildcats (5-3) closed an 11-point deficit to 61-59 on two free throws by Beasley with 1:47 left.
McAlarney, who had scored at least 20 points in his last three games, hit his second 3-pointer of the game from straightaway with 1:32 to play for a 64-59 lead. He went 4-for-4 from the free-throw line over the final 55 seconds to cap the scoring.
Beasley, a forward who leads the country in scoring (26.7) and rebounding (15.0), also had 13 rebounds for his eighth double-double in eight college games.
Copyright 2017 The Associated Press. All rights reserved. This material may not be published, broadcast, rewritten or redistributed. We strive to uphold our values for every story published.