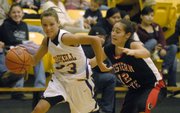 Coming off Saturday's victory against Bacone, Haskell Indian Nations University's women's basketball team seemed to have enough momentum on its side to make it five straight victories Tuesday as Western State College came to Coffin Sports Complex.
Western forward and Topeka native Audra Lawson had other ideas.
The 6-foot-1 senior scored 17 of her game-high 24 points in the first half as the Mountaineers defeated Haskell, 60-52.
"It was a struggle right away," Haskell coach Phil Homeratha said. "But they did a good job of switching defenses on us, and we were just out of sync."
Haskell's intentions were clear in the early going: Press the Mountaineers at all lengths of the court and capitalize on turnovers. That strategy worked for a time as the Indians turned a 4-0 Mountaineer lead into an 8-7 Haskell advantage.
But after a 14-14 deadlock was settled by a Lawson basket, the Indians' strategy hit a snag.
"When we can't score, we can't press," Homeratha said. "When we can't press, then their big girls can get in there and get the ball. We'd play really good defense for a little while, and then the shot clock would get down past 10 (seconds), but they'd get it inside, and we would foul, and they would get a rebound."
The snag came in the form of Western's zone defense that put a halt to Haskell's attempts to implement its offense.
Hit hardest by the offensive drought was Haskell junior Kortney Smith, who had an 0-for-5 stretch heading into the break. Western State proceeded to build a 27-14 lead during Haskell's offensive lull behind 10 points from Lawson. The Indians fought back to close the gap to seven at the break.
Haskell returned to its earlier strategy in the opening minutes of the second half, which produced an 8-0 run that gave it its first lead since early in the first half, 32-31.
Western responded with a crushing 19-6 run, featuring eight of Lawson's game-high 13 rebounds.
Haskell tried to respond as Smith, senior Whitney Warrior and sophomore Justina George hit late buckets to pull within eight.
George led Haskell (6-5) with 13 points. Smith and Lois Stevens each had 10.
Copyright 2018 The Lawrence Journal-World. All rights reserved. This material may not be published, broadcast, rewritten or redistributed. We strive to uphold our values for every story published.