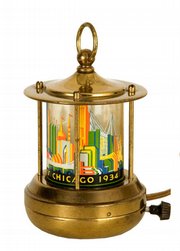 Current prices
Current prices are recorded from antiques shows, flea markets, sales and auctions throughout the United States. Prices vary in different locations because of local economic conditions.
¢ Kerosene-fueled camp stove, clear mica window, marked "Game Junior No. 1, Taylor & Boggis Co., Cleveland, Ohio," $65.
¢ Baby crib quilt, 48 squares of pre-1950 textiles, silk, cotton, wool, rayon and boucle, green pinwale corduroy backing, 23-by-29 inches, $150.
¢ Magnifying glass, brass, mounted on Civil War militia sword guard with stag-butt handle, 3 1/2 inches, $195.
¢ Doll's bed, folds accordion-style, Patented November 11, 1873, L.J. Fenrer & Co, Mystic, Conn., 10-by-8 1/2 inches, $450.
¢ Bennington figural bottle, cloaked coachman holding a cup, tan and brown, Rockingham glaze, c. 1848, 10 1/4 inches, $615.
¢ Telephone stand, teak, black Formica top, two sliding trays, one drawer, 1958, 22 inches, $710.
¢ Sheet-metal weathervane, locomotive, black paint with gold lettering, 1920s, 24-by-27-by19 inches, $1,275.
¢ Hector Aguilar sterling-silver parrot brooch, amethyst cabochon eyes, Mexico, 2 1/2 inches, $1,320.
¢ Hooked rug, clamshell pattern, mellowed greens, browns, plum and wine, black border, c. 1900, 68-by-37 inches, $1,950.
¢ Furstenberg porcelain figure, "There Are No Fleas on Me," woman peering down the front of nightdress looking for fleas, c. 1775, $3,600.
World's Fairs are the source of many types of souvenirs: Bandanas, dolls, vases, clocks, key chains, compacts, figurines, books, posters, teapots and lamps are just a few of the more popular items. The most collectible things have the name and date of the fair as part of the design - they instantly remind you of a particular fair. But, unfortunately, a few years after a fair is over, many people throw out their kitschy souvenirs - exactly the things collectors want years later. The Trylon and Perisphere buildings have become the unforgettable symbols of the 1939 New York Fair; the Space Needle, the symbol of the 1962 Seattle Fair. Lamps have been featured at many fairs since 1900 because lighting has been one of the world's fast-changing technologies. We have gone from kerosene lamps with flames to electric light bulbs to the newer halogen and LED lights. Each requires a special style of lamp and the fairs featured them. At the 1933 Chicago Fair, a popular lamp was made by Chase Brass & Copper Co. The firm was known for its modern metal accessories, including lamps, bookends, serving pieces and trays created by famous designers. But its World's Fair lamp was designed to appeal to an average buyer. It was made to resemble a binnacle, the case that supports a ship's compass. Inside there was a glass cylinder decorated on the outside with an Art Deco-inspired picture of the fair's skyline. The lamp was an unusual night light, too weak to be used for reading, but bright enough to bring back memories of the fair.
Q: I have a coffee table marked with a metal medallion that reads "Baker Furniture" in fancy script. What can you tell me about it?
Baker Furniture dates back to 1890, when Cook, Baker & Co. was founded in Allegan, Mich., to make wood architectural products. Within a few years, the company also was manufacturing bookcases, buffets, desks and cabinets. The name changed to Baker & Co. in 1903 and then later to Baker Furniture, Inc. The mark with fancy letters has been used since 1937. Baker Furniture, still in business today, has been owned since 1986 by Kohler Co. of Kohler, Wis. The Kohler Web site has a Baker link that says you can mail in a photo of a vintage Baker piece to learn when it was made.
Q: Can you tell me anything about Ferroline black glass?
A: Ferroline is an opaque black glass patented in 1881 by Enrico Rosenzi and Benjamin Lupton, founder of the West Side Glass Co. of Bridgeton, N.J. The name "Ferroline" is a combination of the Latin word "ferrum" (iron) and "opaline." The glass was advertised as indestructible and was used for tiles, tabletops, lamp feet, vases, plates, bowls, cups and saucers and other items. At least three different Ferroline plates were made by the West Side Glass Co., one with a rose center and ivy-wreath border, one with a bird in a nest and ivy border and one with no decoration. The factory burned down in 1885 and another company took over the production of Ferroline, but the glass did not sell well and the company stopped producing it a year later. Ferroline is rarely found today.
Q: I am trying to learn the history of a Tea Leaf Ironstone chamber pot with lid marked "John Edwards." Can you help?
A: John Edwards operated a pottery in Longton and later Fenton, Staffordshire, England, from 1847 to 1900. His pottery and marks are shown in many of the books on Tea Leaf Ironstone -- white ironstone decorated with a luster tea-leaf decoration. The value of your chamber pot depends on its shape and condition.
Q: Can you give me advice about how I might remove my granddaughter's biro drawings from my tanned leather sofa?
A: We had to look up biro, a word used often in England and Canada but rarely in the United States. Laszlo Biro was a Hungarian newspaper editor. He noticed that newspaper ink dried much faster than the ink used in pens. He designed a new type of pen with a ball top in 1938. The ball, which rolled so the pen worked like a fountain pen, kept the ink inside the pen. Biro fled from the Nazis in 1940 and settled in Argentina. A company there sold the new type of pen, giving it the name Birome. Eversharp-Faber marketed the pen in the United States in 1945, and Reynolds International Pen Co. made one like it at about the same time. Reynolds sold it as the inexpensive Bic pen. Biro is another word for ballpoint ink. The ink can be removed from many surfaces with rubbing alcohol, but the alcohol would probably also remove the color from the leather. Sorry, but you might not be able to erase your granddaughter's drawings. Talk to a local expert in leather upholstery. You might come up with a solution.
¢
The Kovels answer as many questions as possible through the column. By sending a letter with a question, you give full permission for use in the column or any other Kovel forum. Names and addresses will not be published. We cannot guarantee the return of any photograph, but if a stamped envelope is included, we will try. The volume of mail makes personal answers or appraisals impossible. Write to Kovels, (Lawrence Journal-World), King Features Syndicate, 300 W. 57th St., 15th Floor, New York, NY 10019.
Copyright 2018 The Lawrence Journal-World. All rights reserved. This material may not be published, broadcast, rewritten or redistributed. We strive to uphold our values for every story published.