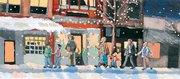 Holiday music events, gift ideas, activities for kids, food, decor & much more!
Julie Anderson is a single mother of two. She works full time to support her children and pay bills, but during the holiday season, her financial picture looks a little bleak.
"I work paycheck to paycheck," she said. "I can't necessarily get everything my kids want."
For the last six Christmases, Anderson has volunteered with the local Salvation Army, 946 N.H. There, she learned about an adopt-a-family program, the Holiday Bureau. She is now being assisted by the program.
The Salvation Army, Ballard Center, Penn House, Douglas County Senior Services Inc. and East Central Kansas Economic Opportunity Corp. (ECKAN) make up the Holiday Bureau to help hundreds in the community. Needy families and individuals signed up with the agencies are put up for "adoption" to be matched with local donors.
"There are so many families out there in need," said Linda Lassen, director of programming at Penn House, 1035 Pa. "It's a great thing if we could get the community interested in adopting a family that may not have a Christmas without the help of others."
Donors are asked to purchase a new outfit and gift item for each person in the family, and to provide a holiday meal. Lassen said Friday that about 85 families need adoption at Penn House. The deadline for gifts is Dec. 19.
"If you can't adopt a whole family, then a gift certificate for food or shopping would be wonderful," she said.
As of Friday, the Ballard Center, 708 Elm St., received more than 230 applications for the program. Of that, about 70 have donors assigned to them.
"I have a lot of applications," said Paul Hunt, resources director at the Ballard Center. "I have a lot of great donors, but I need a lot more."
Susan Dalberg, co-administrator at the local Salvation Army, said its 120 families are pretty well covered. About 20 families await donor matches through ECKAN, 2518 Ridge Court. Douglas County Senior Services Inc., 745 Vt., needs roughly the same number.
"We look forward to it all year," said Janet Ikenberry, program manager at Douglas County Senior Services. "People get excited about giving."
Copyright 2018 The Lawrence Journal-World. All rights reserved. This material may not be published, broadcast, rewritten or redistributed. We strive to uphold our values for every story published.